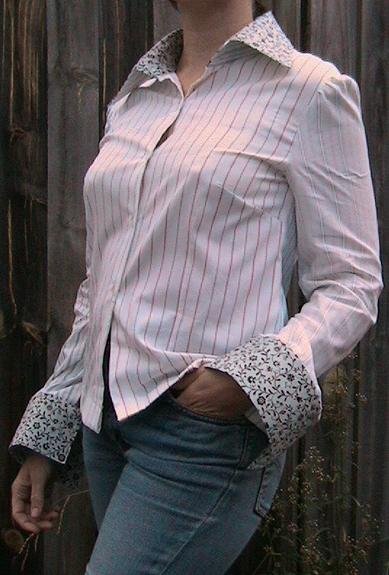 ShareThis
Browsing the web i came across a post on
">CRAFT showing people at the "http://www.makerfaire.com/
">Maker Faire re-making their shirts during the " http://www.swaporamarama.org/makerfaire07.htm ">Swap-o-rama-rama. They cut up their shirts, added extra pieces to them, patched them or changed them into something entirely different such as a sarong skirt. This got me thinking, it's not often i use items of clothing to make something new, instead i tend use lengths of fabric found at the thrift store or given to me by other sewers clearing out their stash. So i decided that my project for this week should be Swap-O-Rama-Rama style and made with recycled clothing. Rummaging around in my donated boxes of goodness i came across a bunch of men's shirts that had their collars removed and some of the sleeves, perfect for making Emily! So they were washed, dried and ironed then i cut across the shoulders to lay them out flat. It took a bit of time to fit my pattern pieces to the shirt fabric and decide on the colour combination. Luckily they fit without me having to piece fabrics together although i think this could look cool and may try it next time. I did cheat a little, my Emily blouse is not entirely recycled, yes i know i'm a bad refashioner.I wanted to use a pretty fabric for the collar and cuffs so used a scrap piece from my stash, no money spent, honestly! I think it worked out well.
Is there anything i'd change? maybe the length but other than that no. This is a great pattern, i'm really pleased with how the blouse turned out considering this is only the second time i've actually made a blouse with a collar. My first attempt was made when i was first learning to sew, i think i made the collar without interfacing and messed up the top stitching, i was still proud of it though and did wear it. I know i'll be making more from this pattern now that my sewing skills have improved since then!
You can see more details of how i recycled Emily in this How To.
Now onto my next project, after counting your votes it seems dress number 6 is the favourite so check out my next column for details of my adventures finding fabrics and how i make my version of the dress.
Former columns of NikkiShell:Don't Find Wanted Fabric – But Still Sew!,Finding Recycled Fabrics and Franzi Vest Made from Thrift Store Skirts.