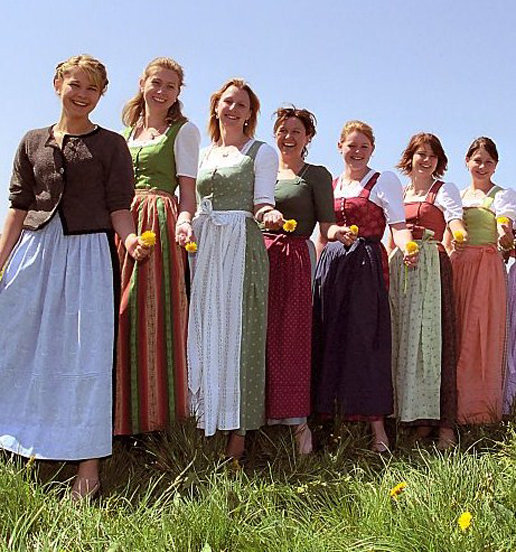 ShareThis
It's time for the Oktoberfest. In the Bavarian dialect, it's Wiesnîtime – when thousands of tourists descend on Munich to get sick on Bratwurst (sausage) and rollercoasters, dance and fall off benches with uncountable other sweaty bodies Beertents where they drink beer by the litre out of heavy glass mugs called "Mafl" (the fl is equivalent to an "ss" and you pronounce the "a" like a "u" in mug). This is also the best season for second hand vendors of Dirndl and Lederhosen, the traditional Southern-German and Austrian dress, which has gained world fame not least through the musical and film Sound of Music. Lederhosen simply translate to leather trousers. The word Dirndl is derived from the Bavarian word for girl: Dirn. With a little bit of luck you will spot politicians, pop-stars, our most loved BurdaStyle editors, and even "it-girls" like Paris Hilton in Lederhosen or Dirndl.
But whoever considers him or herself a true Bavarian (and there are quite a few) do not only unpack their Dirndl and Lederhosen for the Oktoberfest. Especially in rural areas, people will wear the traditional dress at festive days, for weddings, baptisms, birthdays, and to go to church. But even young urbanites are rediscovering the beauty and romanticism of Dirndls. If you are invited to a wedding in Southern-Germany you might find yourself surrounded by people wearing Dirndl and Lederhosen who in their everyday life run around like you and me, a very interesting double identity.
You can compare this resurrection of the Dirndl and Lederhosen with their first coming out as fashion icons at the end of the 19th century. Before then, they were the working clothes of farmers, lumberjacks and anyone else who did hard physical work. Especially lederhosen, which are made from dark brown or black leather or suede, with intricate embroidery on trousers and suspenders are indestructible and can last for a lifetime. Thanks to the Austrian Emperor Franz Joseph I. and various other royalties in Southern Germany who started wearing lederhosen at the turn of the 19th century, both became fashionable as summer holiday outfit with urban aristocrats and bourgeoisie who sought relaxation from urban summer dust in the cool Alpine regions.
Yet, there is much more attached to the traditional dress than simply fashion: traditional music, dances, songs, and celebrations which are being preserved until today. Like for example the "Schuhplattler" which could be translated as "shoe clapping". To see what I mean check out these two videos on You Tube. One showing a dance from Vienna of the 1920s, and another from today.