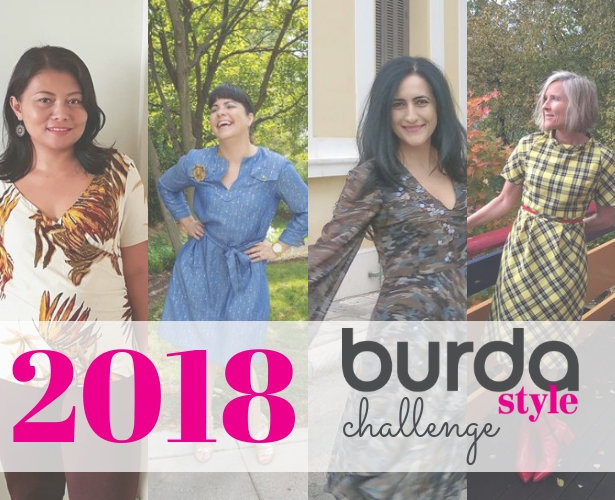 ShareThis
Officially sweater weather over here now that November has hit, so cozy styles are definitely in my plan to sew up in November. But let's not get ahead of ourselves, in October our amazingly talented sewing community made all sorts of garments including dresses, pants, and even an "I've been thinking about you" jacket! Read on to see what was sewn last month, and my sewing plan in November for #burdachallenge2018…
Saturday Night Stitch's Hila posted about wearing her new pants from the 10/2018 issue of BurdaStyle magazine, and we love the print!

Our members also made some incredible projects seen below…



On the left we have member velvetribbon in her Wrap Shirt in Printed Knit Jersey, and on the right is Ellen Hatteland in her Yellow for Autumn dress!



Member lisascarolina made two entries for this challenge including a Fleece Jacket Vest and Faux Wrap Top.



Evmorales also dived into sewing up multiple styles. She made this dress using Mood Fabrics, and we're immediately in love with it as mush as she is – then on the right is her Denim like Tunic Dress.



Red Denim Skinny Jeans is what member SeamRacer sewed up in the month – red hot! Then we have another Evmorales original, her Waterfall Green Blouse.



It wouldn't be a Burda Challenge round up post without some lovely creations by Elpida Kyriakou. We love both her Jumpsuit for Fall and Tartan Floral Dress!



Maria Hayek fell in love with this jacket pattern and made a I've Been Thinking About you Jacket. In addition she whipped up a gorgeous floral dress entitled her Love Dress.
Here are some other Burda Challenge creations from Instagram:



The October plan was to sew up our Relaxed Skirt and then our BurdaStyle Influencer Diane did a Mash Up Takeover to make this Water Fall Blouse.



Diane's blouse turned out red hot! You can see more pictures in the reveal post here. as well as a link to the full tutorial. For my skirt I planned to sew it all in this burgundy linen I had, but I actually didn't have enough to cut the entire skirt with front gathered overlay. So I found this deep red pleather like quilted fabric that I thought really complimented the linen and cut the under front in that. As far as modifications go, instead of sewing the waistband with zipper, I opted for an elasticized waistband – more photos to come!



After two amazing Mash Up takeover while I was away on vacation, I'm excited to be taking is back in November. I plan on sewing up these Culottes as I'm just dying for a pair of fall culottes that I can wear with boots. Then for my #burdachallenge2018 other projects I'm going super cozy with our Robe pattern.


Using our handy planner, I mapped out my challenge make for November for "lounging around". This time of year all I want to be is cozy, so I dug in my Shannon Fabrics bin for some fabric options I can sew this robe in. I'm going to mix their Minky Cuddle Dimple Snow White Fabric for the warm factor with their Embrace Double Gauze Rose Garden Pink Fabric because I just love this rose print – very "spa" like.
What are you guys make in November for the Burda Challegne 2018! Don't forget to use the hashtag #burdachallenge2018 in Instagram and in the projects page so I can see and post.
Happy Sewing!