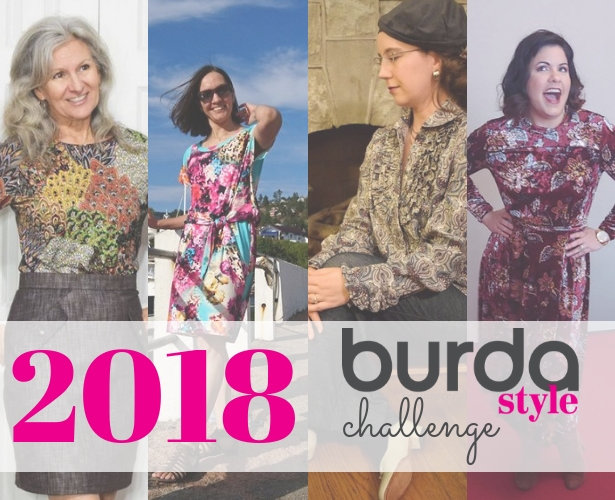 ShareThis
It's holiday season – but that didn't stop our lovely #burdachallenge2018 community of makers from sewing up tons of amazing projects in November! I myself am in holiday sewing mode, and in November I even sewed up a perfectly festive outfit to wear during December. Our members sewed up some amazing printed garments last month – it was definitely the month of fun prints! Read on to see what was created and what my December sewing plans are…
Hila over at Saturday Night Stitch posted about feeling joy wearing her BurdaStyle rollneck top for her #burdachallenge2018.

Here are our member projects sewn in all sorts of fun prints:



Challenger Maria Hayek sewed up these two garments including her Cotton Candy fabric Cozy Autumn Sweater, and her Favorite Jersey Dress So Far – I must say I agree, it's definitely a favorite.



On the left we have lisascarolina in her A Refashion Mini Skirt, and then SeamRacer on the right is wearing her new Beatnik Blouse.



Certified Burda Teacher Evmorales was busy making all these lovely pieces in November including two version of our Knotted Midi Dress. She first made it true to the pattern in printed jersey and then another one with modification in velvet. She also sewed up a coat!



Challenger Elpida Kyriakou made these two amazing pieces including her White for Winter Jacket on the left, and Exercise on Embroidery on the right.
Here are some other Burda Challenge creations from Instagram:



Above were my sewing plans in November – and I'm glad to say I made them both with additional matching pieces!



First we have my Mash Up where I sewed up this matching plaid outfit. This is definitely going to be a popular outfit this time of year! I have already worn it twice.
Then I made this cuddly robe using Shannon Fabrics rose Embrace double gauze and fleece. As soon as I finished making it I knew I needed matching pants, so I actually reused the culottes pattern from my Mash Up to whip up some pajama bottoms. See them in the project here.



I'm super excited about my December sewing plans. First I'm going to use up this teal faux fur to make a shrug using this vest pattern. I love working with faux fur this time of year – it even makes me feel warm and cozy just sewing it!



My Mash Up is all about a NYE outfit! I was obsessed with this dress pattern and its overlay. I can picture such a stunning dress, and I love how the arms are covered. Can't wait to go fabric shopping for this one.
What are you guys make in December for the Burda Challegne 2018! Don't forget to use the hashtag #burdachallenge2018 in Instagram and in the projects page so I can see and post. It's also time to use the LAST PAGE in our planner.
Happy Sewing!