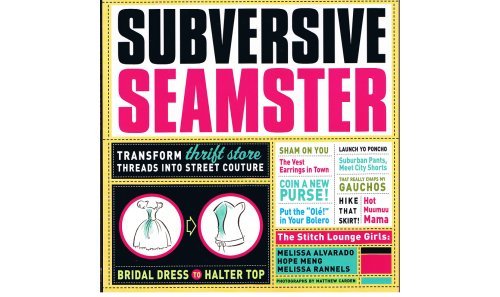 ShareThis
I was recently sent a copy of the book Subversive Seamster for review. Subversive Seamster follows Sew Subversive and is published by Taunton Press. It is the creation of The Stitch Lounge Girls: Melissa Alvarado, Hope Meng and Melissa Rannels. The Stitch Lounge is an urban sewing studio in San Francisco, where you can rent time on a sewing machine or take classes.
Subversive Seamster shows you how to refashion your thrift store buys using many simple but effective techniques. It shows you how to take those tired and unwanted clothes and turn them into something funky, wearable and individual!
The first chapter gives you tips and tricks about thrift store shopping. Tips such as planning ahead, carrying a tape measure with you and what to look for in clothing such as stains and smells. It also tells you how to look out for sales and ask for deals.
Chapter two shows you simple but effective techniques that are used throughout the book. Techniques include patches, Lettuce edging, ruffles, pin tucks and Darts. There is also a section for how to make your very own Ms. Double Trouble: The Duct Tape Dress Form.
The next three chapters are dedicated to various projects including making mittens from an old sweater (I have a <a href"http://www.flickr.com/photos/nikkishell/514188900/in/set-72157600266962712/&#8220;&gt;pair of these made for me by a fellow Melbourne blogger "http://onegirldesignwrks.blogspot.com/&quot;&gt;'Onegirl' and they're great), making a bolero from a turtleneck sweater using a lettuce edging technique, cuffed city shorts from old men's pants and a checkbook cover from an old tennis racket cover.
As you may know I run the website Wardrobe Refashion so this book seems very appropriate for me. What do I think of it? Well, I think it is well laid out with great instructions and enough images throughout to help you with the techniques. The techniques themselves are simple enough for those starting out in sewing and refashioning. However I'm not too keen on the actual refashions but this is a personal preference, they aren't garments I would particularly wear myself. I also feel that from the images in the book that the projects are not quite built to last, the finish of the garments look rushed but this could be overcome in your own creations by taking your time.
Do you have this book? What do you think? Let us know in the comments.