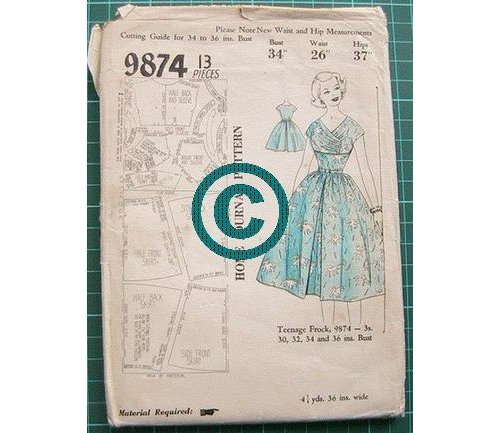 ShareThis
I have recently been wondering about the copyright of patterns and decided to look into it further and share with you what information I found. I by no means think I'm an expert on this subject; actually I'm very far from it and encourage you to comment and share your own knowledge on the subject.
Copyright protects a designer's work from the moment it is created until 70 years after the last surviving designer's death, 70 years!!! Designers are making a living from their work so by purchasing their patterns you are supporting them and the fact that they are selling their work indicates they expect people to use the patterns and make items from them. This means they are giving you permission to use it but for personal and domestic use only, they are not to be used for your own personal gain, i.e. making a profit.
When can you use a commercial pattern to make a profit? One way is when sewing custom garments for customers but you must buy one pattern per person; you can not use the same pattern for multiple customers. The pattern can be reused for the same customer though if they require more than one garment from the same pattern. Another way is to license the patterns for which you will pay a fee. To do this you must contact the publisher for permission or the creator and they will inform you as to whether they allow this and what the requirements are. The same goes for out of print patterns, get in touch with the publisher and ask permission, I know I have a few I would like to share with you all so I will be getting in touch with the appropriate people and will go from there.
Information, styles, techniques and methods are not covered by copyright. So by using a particular sewing technique created by someone else or creating something in the same style as someone else has etc you will not be infringing copyright.
Now as you know BurdaStyle is an open source website. What does this mean? Well, Burda is the first established pattern publisher to release its designs without copyrights; this allows members of the public to market their BurdaStyle creations in limited editions. Remember, limited editions!! The patterns are not to be used for mass production nor are the patterns themselves to be reproduced and sold.
Since I'm no expert pattern maker I find this to be a fantastic concept as it allows me to sew garments to sell without having to go through the whole pattern making part of the process. I have been working on a limited edition of denim Sidonie skirts to sell in a local store and in my online store if I ever get it up and running (so many things to do, so little time in which to do them!). It's a great way for me to use my skills and make some extra money at the same time.
Are you using BurdaStyle patterns to make a profit? Tell us about what you are making and how you are using the patterns in the new thread I have created. And as I said at the beginning of this post, please contribute your thoughts and knowledge on the copyright subject here in the forum. It's a topic we should all know about, especially if we intend to make money from what we create. I have discovered a lot of people don't know much at all about copyright and I'd like to prevent them from getting into any trouble by sharing what we know.
Copyright symbol in image found here