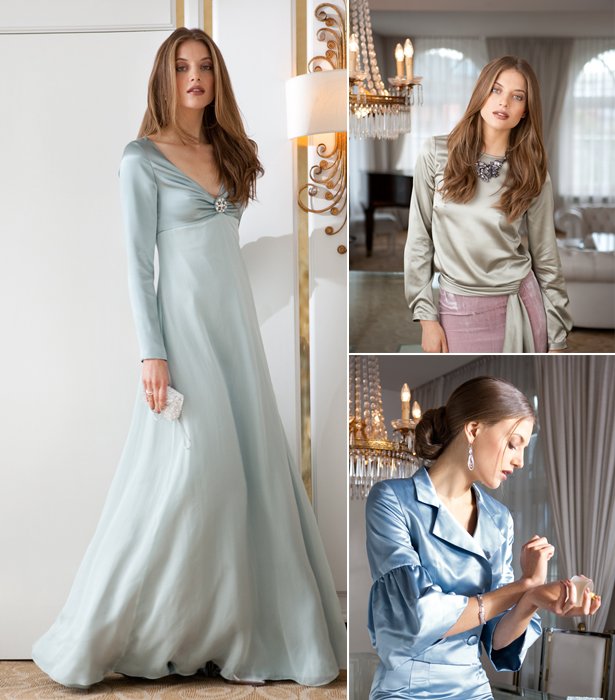 ShareThis
Presenting…..this elegant new pattern collection from burda style magazine's December 2012 issue. Whether it's a night at the Opera, or a holiday party, these styles are a perfect fit for those special occasions. We see soft flowing fabrics with shiny and matte finishes in powdery colors that are ultra feminine.
This sleeveless Tank is very classy and makes a great evening layering piece. What better to wear it with than this timeless Godet Skirt that is made in beautiful crépe satin. We love the one godet fold at center back and small rear gathers that makes for a very feminine silhouette.
Tired of your stole or trench? This fleecy Belted Coat is the perfect alternative. It has a beautiful cut and trumpet sleeves.
We love it, both the fabric and the silhouette. This Velour Jacket has a beautifully pleated collar and sleeve hems. It looks great with this fun and flirty full-bodied Skirt. It has an under layer of shot taffeta and a beautiful gathered outer layer of tulle lace.
Each step you take this long skirt swings at your feet. This classic Empire Gown is stunning especially in this eye-catching combination of shiny satin and chiffon. It is beautifully finished off with a brooch.
The simple design of this Blouse lets your fabric shine! We love it paired with the Sash Skirt with waist sash that is very flattering. This versatile skirt can nicely complete any outfit and it features a lovely center back godet and gathers.
This Gown is the essence of elegance. The silk crépe makes this gown shine and has a mysterious waist gather that draws the eye. Narrow sleeves hug the body and make for a perfect evening dress.
Blue as the sky is this shiny duchesse blazer and skirt. The Blazer has a wonderful cut, double-breasted closure, and lush 3/4 length sleeves with flouncy gathered cuffs. Worn with this Darted Skirt makes a stellar outfit fit for an evening out.
Happy Sewing!