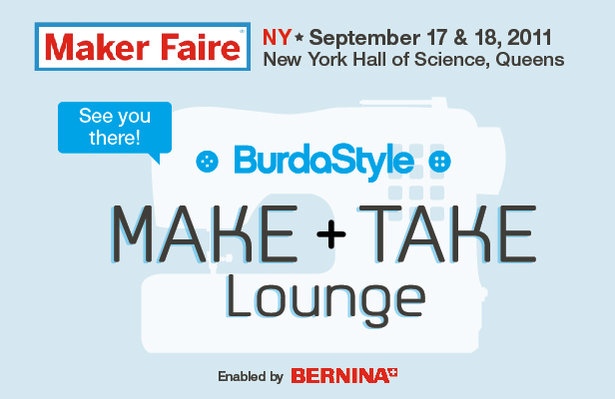 ShareThis
Get ready because BurdaStyle is bringing back our famous Make + Take Lounge to Maker Faire New York in just a couple weeks. It's time to pack up our sewing machines and head over to the New York Hall of Science in Queens for a weekend of sewing September 17th and 18th, and we couldn't be more excited to be a part of this amazing creative event once again!
Stop by our Make + Take Lounge where we'll be helping newbies learn how to sew and giving you stitching veterans a chance to show us your stuff with our fun and Easy Drawstring Bag project. Come hang out, test your skills on one of BERNINA's amazing new 3 Series machines and whip up your own bag with one-of-a-kind fabric specially printed for us by our friends at Spoonflower.
Plus, stay tuned for a special button DIY session! We will be showing you the skills you need to adorn your project with buttons, or simply learn how to stitch one onto your clothing or garment projects. Special thanks to our sponsor Blumenthal Lansing for providing buttons and offering you the space to get creative with them!
And calling all sewing enthusiasts: we need your help! We're looking for volunteers in the New York Area to help attendees at our at our Make + Take Booth stitch up their drawstring bags. Ideal candidates will be able to work one 4 hour shift either Saturday, September 17th or Sunday, September 18th and in exchange for your help we'll hook you up with a pair of free Adult Tickets to the faire! If interested please contact susan@burdastyle.com for more details.