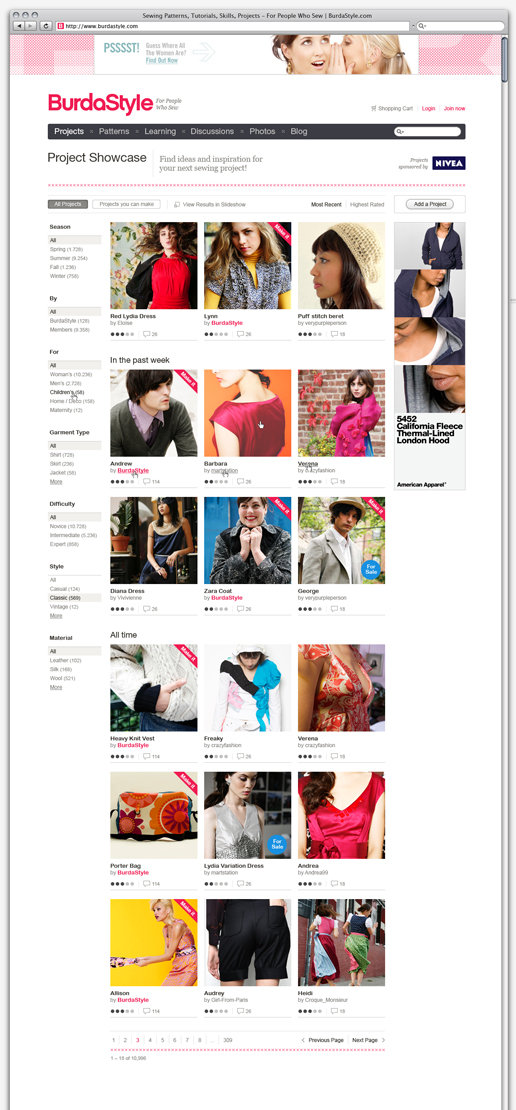 ShareThis
Sneak Peak number two is about our first newly structured navigation point of our new platform, the "Projects" section.
This section will from now on include all finished sewing projects (currently named creations), meaning both projects that are derived from patterns and projects that are solely based on instructions. The latter is currently living in the how to section.
For that matter, at the moment we are dividing the How To section on the current site into Projects and Techniques. Techniques will be hosted under Learning, but more about that in another sneak peak. The projects data is being transitioned right now to fit the new section and we may be contacting some of you that have projects living in the current how to section, to do the same. No worries! Easy as pie.
To properly host all the necessary information for the projects, each creation has its own step by step instructions if needed. BurdaStyle's pattern instructions will be posted here, and accessible at all times, even before pattern purchase!
The Project showcase has optimized sorting capabilities and a great filter system, which allows you to sort out projects that you can make from the projects to be inspire by. You will also have the ability to sort projects by season, material, garment type, and style making it much easier to find the projects you are looking for.
As you see, there is a lot to look forward to and please, ask questions as we go along. And don't forget, we will help you transition slowly and be there all steps on the way.