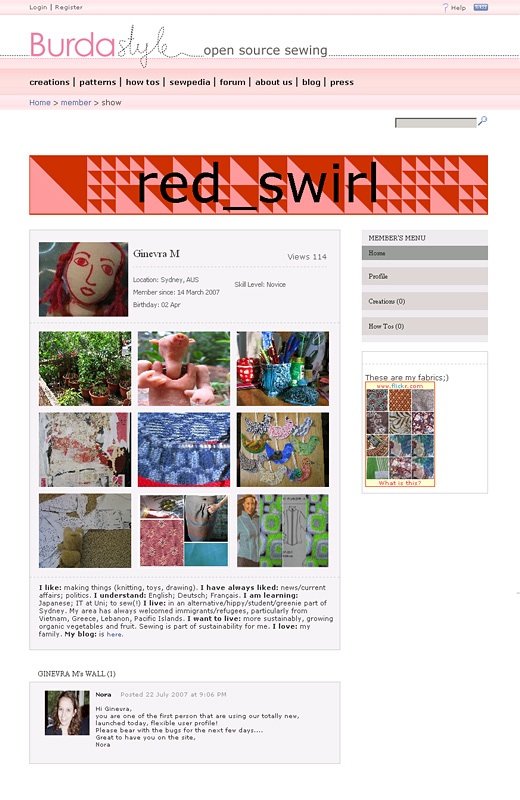 ShareThis
We got tons of feedback for the new site design – thanks! – and we are still working on fixing it. We thought it might be of use for our members if we list the main bugs (things that will still change) as well as the great bonbons, so you know what more to expect! For the coming days we will post several updates on that.
Here are a few points with which we ask you to be a little patient with us:
*Pictures in the pattern catalog are fuzzy: We will exchange the fuzzy pictures with technical drawings and all the great pictures of our clothes, full length as well as detail shots will come back. They will be listed under the creation section and will link right to the pattern section (you can download the pattern from either section)
*Recently uploaded creations do not show yet in the 'creation' section, we're fixing that so every creation that is freshly uploaded will appear right away in that section
And now a Bonbon (the German word we use for goodie!):
*The member profile is soo much more flexible! You can create your own home page. Upload pictures of any sort (not creation or How To
related) as well as a banner! You can also upload Flickr and Etsy Minis! We installed a RSS feed that informs you when someone
posted a comment on your creation or in a forum thread that you are participating in. And – you can leave messages on your friend's wall!
The picture you see in this blog entry is red swirl's member
home, she was the first one that used our new features just a few hours after launch.
Guess what, there is more to come
*You will be able to search patterns by the amount of fabric you have lying around at home – this will work as soon as we manually managed to fill in
that information. We hope to do that soon, right now we're fighting the major bug war, the battles (fabric amount, lining, spacing etc.) follow…
Thanks again for all your support and constructive criticism, it really helps!