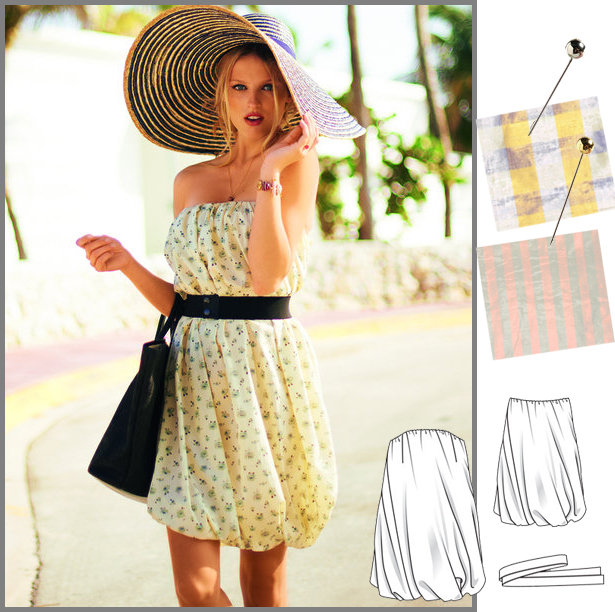 ShareThis
These retro-inspired patterns could have been worn in the French Riviera by Brigitte Bardot in the 60s, but today they still hold up on their own and are full of fun. Have fun mixing and matching tops with bottoms and get creative by embellishing + personalizing: Check them out!
And away we go…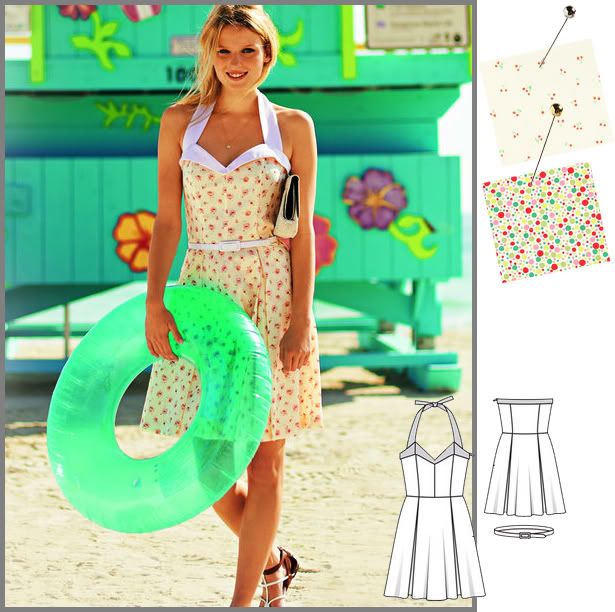 Halter dress: The shape of this dress is sweet but I'm not crazy about the white pique as the contrasting fabric, it looks too stiff and uniform-like. I'd try this pattern in voile or batiste all over. I've always wondered what an adult would do with cherry printed fabric— I think this retro silhouette could actually look great covered in cherries and worn with red lipstick!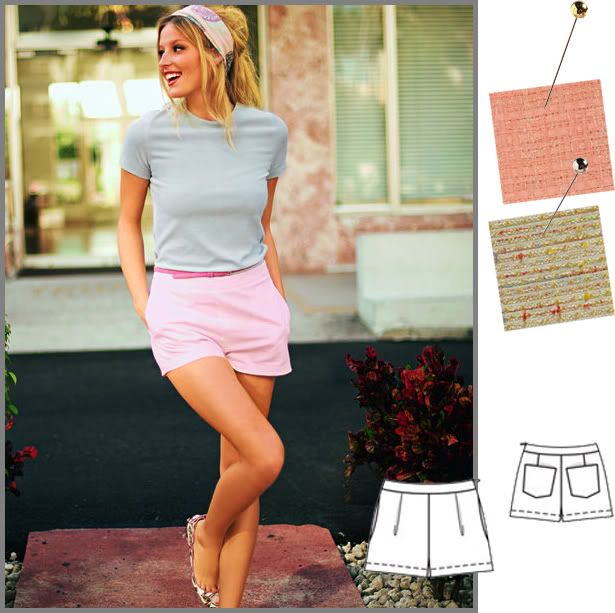 Mini shorts: The front of these shorts is very nice— when there is no front zipper and fly down the center front, you get a nice smooth fit. Try these shorts in tweed like Chanel (lighter colors for summer and autumnal colors for winter).




Kimono robe. Has anyone seen the film Best In Show, when Scott Donlan and Stefan Vanderhoof are packing for a two-night stay and Scott assumes he'll need about 10 kimonos? Haha, love that film. I practically live in my kimono robe— as soon as I get home for the evening, on it goes, and I feel so comfortable but kind of fancy too… Any slippery fabric can work here, especially silk charmeuse. Tip: Add length to the hem, this pattern is way too short to wear around company.




Peasant Blouse: Cut from checked gingham (in silk or cotton) this blouse is appropriate for any season (Aussies— try it in darker checks and plaids for your current climate). The 3/4 length sleeves are dramatic and feminine…




Twisted hem dress: This is a variation on another twisted hem dress (see link) and I think that cutting this pattern from a cotton viole, batiste or lawn truly enhances the design. Tip: Cinching in the waist with a wide belt makes the shape less bulky and more chic. And topping it off with a wide brimmed hat is the cherry on top.

Check out more patterns from this series: Audrey Hepburn-esque high waisted trousers, short sleeved top with back zip, and a retro 3/4 sleeve top with fitted darts and a back zip.