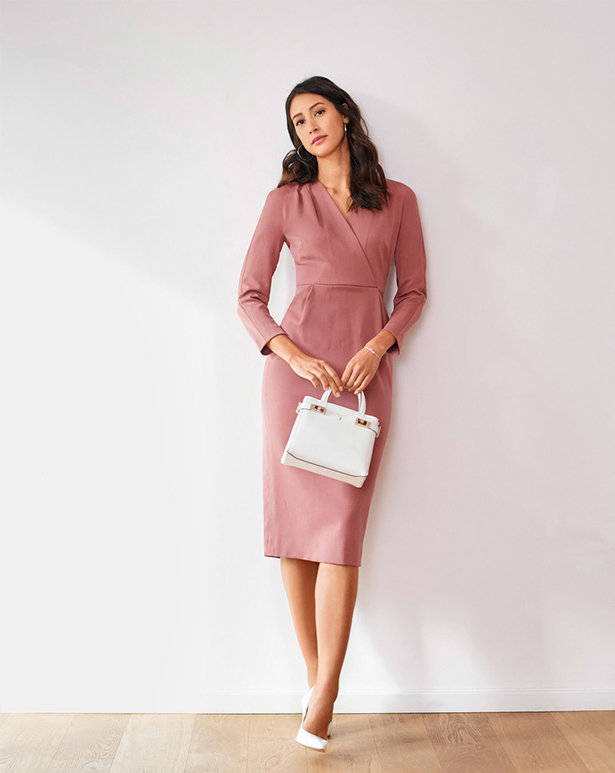 ShareThis
This dress sewn with a wool jersey and asymmetric pleat details is just as charming 60 years later. This fitted dress with the asymmetric pleats at the right shoulder shapes the hour-glass silhouette beautifully. Slant pockets at the waistline tuck in as inlaid pleats to replace darts, and the elaborate sleeve gussets: gorgeous!

Sure, we love our T-shirts, jeans and sneakers, and dressing towards nonchalance most days – sometimes, though, you need to notch it up a level to tip the scale towards elegance. Naturally, ready and waiting for such an opportunity is this figure-hugging, knee-length dress, in a flattering colour. A great dress makes us feel and look radiant, gets us ready for the limelight without being over-the-top, and emphasizes our assets while smoothing over the rest. A prime example – charmingly so – is this style sewn in a delicate shad-ed rose colour.



It fits the body snugly like second skin, without clinging thanks to the ultra-soft and warm wool jersey. The diagonal seam lines draw the eye along with the inlaid pleats and slanted pocket edges toward the drawn-in waistline. The pretty pleat details are repeated on the bodice so that the combination of the sophisticated surplice neckline adds subtle attention to the decolleté.



It is great to find that this pattern hasn't lost a bit of its sparkle even 60 years later – and today it can still be styled best with a classic pair of pumps and possibly an accent at the waist with a belt still managing to be stunning whether worn to the office, or parties both formal and informal.