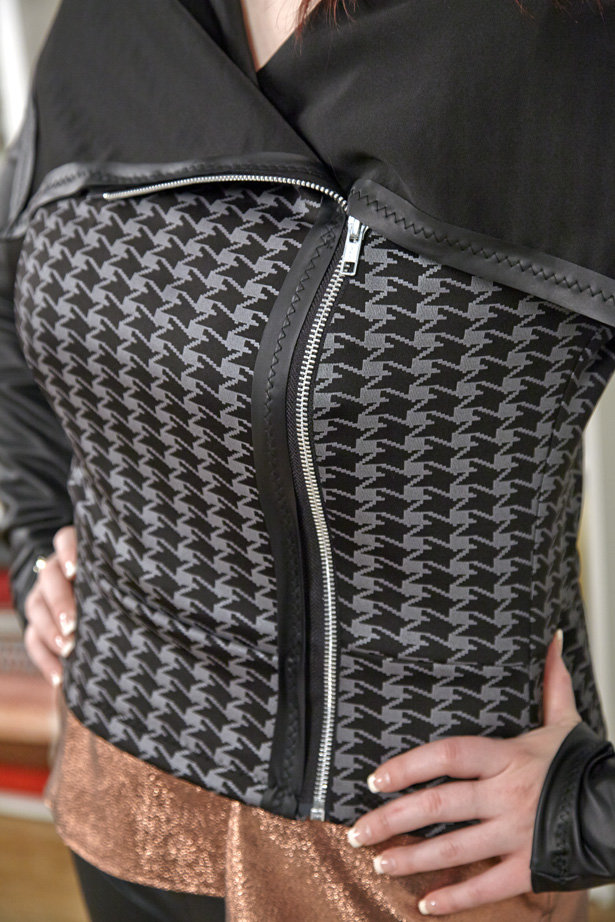 ShareThis
In this video Meg will take you through step-by-step on how to make the Asymmetrical Moto Jacket!
In this 1 hour and 15 minute video you will learn from start to finish how to sew our popular Asymmetrical Moto Jacket from November 2011. This jacket has an interesting integrated collar, asymmetrical zipper closure, and leather trim. If you are a beginner sewer and want to make your first jacket, this style is a great starting point because it has no lining and is intended to be sewn with a stretch fabric.


You will love this video if:
You want to see a jacket project sewn from start to finish
You want to learn about working more with stretch fabrics for jacket patterns
You will learn:

The types of fabrics best suited for this pattern
Sewing the asymmetrical jacket front with separating zipper
Assembling the back of the jacket
Sewing the back to the front jacket with integrated fold over collar
Stitching the trim/edging in place
Putting together the sleeve pieces and setting them into jacket
Finishing the jacket and sleeve hems
Hand stitching snaps in place

Tools used in this video:

Jacket pattern
Serger
Sewing machine
Pins
Zipper
Snaps
Zipper foot

Click Here to the the Asymmetrical Moto Jacket Video!
A note from the presenter:
" I am so happy with the way this jacket turned out for me, I can wear it with so many outfits and I love the integrated collar. The leather sleeves and trim make it nice and edgy!" Meg Healy