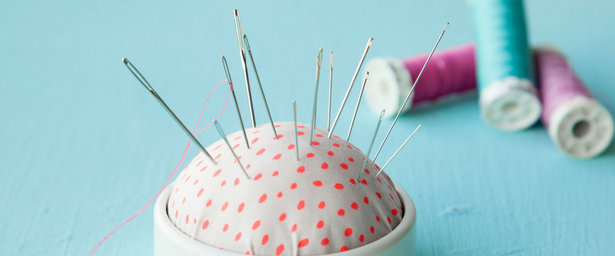 ShareThis
Long or short, sharp or blunt? We are shedding some light on the subject – because the correct hand stitching needle can make your next project even better…
For every project, be sure to use an impeccable tip. A defective needle can damage your fabric and can quickly ruin your favourite pieces. Our tip: To test the sharpness of a needle tip, stick it into an old pair of fine stockings
(nylons). If the needles catches when you insert and remove, it is defective and should not be used. Leather needles would naturally be an exception.

For crafters and those who work on covers for mattresses and sofas you will want to use these curved upholstery needles that also work well for repairing edges. Packing and carpet needles with an extra-large needle eye and a flattened tip can work well for coarse materials like linens, thick wools and jute.



The rounded tip glides more easily between the warp and weft threads of textiles. As the name suggests, these needles are good to use for textile repairs – though also often used for sewing wool threads when knitting.



The longer and sightly larger eye allows easier threading, even with thicker embroidery strands. Embroidery needles are available in two varieties: sharp points for working with smooth textiles, and rounded for weaves often known as "even weave". The proper needle al-lows perfect weaving without pulling between the threads. It works for sewing jersey without disturbing the threads, too.



Solves the threading problem for ever: The open eye of the needle is threaded when pulled through the head of the needle.



When you have at least two layers of fabric and some batting… since quilting is usually done through many layers – these special needles are especially sharp, long and often made out of a strong carbon steel.



In order to enable you to sew even the finest seed beads, the eye of the needle is quite small. Rows of pearls can easily be threaded onto the longer needles. Tip: Even the finest fabrics can be safely sewn with the shorter needles without the risk of pulled threads!



Leather is difficult to stitch through – the triangle tip of this style makes it much easier. To protect against painful fingers, be sure to use a thimble when working with leather!



Whether for buttons or hems – these needles are the essential all-rounder. Use the shorts for small stitches. For longer stitches, e.g. for basting, choose the longs.



Hand sewing is very common in tailoring garments, and if you want to learn more then register for our Tailoring Course!
Happy Hand Sewing!