ShareThis
Felting, the process of matting woolen fibers together, is one one the oldest fiber techniques known, dating back to the 6th Century BC. In fact, prior to the invention of weaving & knitting tools, looms and spinning wheels, felting was the primary process that was used to produce cloth for everything from shoes to hats and rugs to yurts.
As technology is usually the catalyst for change, the aforementioned tools – spinning wheels, looms, etc – kept wool in its rightful place as a production material, but replaced felting overtime as the preferred production technique.
Things remained pretty static for centuries as no revolutionary techniques surfaced in the production of cloth. We need to jump ahead to the mid-1800s to see the next major shift – the production of the first commercial needle loom. This needle punching technique languished for another hundred years until the 1950s when it began to see more use as waste fiber was found to be usable, thus lowering the overall production cost.
Skip ahead to 1984 when David and Eleanor Stanwood, artists from Martha's Vineyard, MA began using a single commercial felting needle to handcraft their creations. They taught their friend and fellow artist Ayala Talpai the technique. In turn she published The Felting Needle – from Factory to Fantasy, the very first book on the subject, and a new craft category was born.
For the past 20 years, Indygo Junction has seen this category grow and grow, producing some of the most creative and imaginative pieces in the fashion sewing and craft field. From cloth itself to cozy capes and scarves, to jewelry, toys, and artwork. As the tools have become easier to use, more and more artists and crafters take it up.
There are, essentially, three basic needle felting techniques: yarn embellishment – the application of yarn to a foundation fabric; fabric-to-fabric – the ability to applique without sewing; and fiber-to-fabric – the joining of individual fibers to a foundation fabric using stencils or freehand methods.
There isn't enough room in a blog post to even begin to demonstrate these various techniques…that why I've put together some suggestions and content to help you get into this very rewarding technique.
First, Indygo Junction offers a number of patterns, books, supplies and tools to get you into Needle Felting.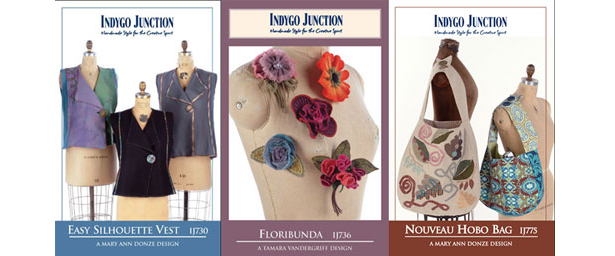 Our patterns feature felting in a variety of applications, an accent color on a felt flower, recycled menswear appliqués on a hobo bag, an overall pattern on the inset of a vest back, and felting several quadrants of a pieced wool tote.
Our books include a wide variety of projects..from dimensional jewelry to felted wool scarves…even needle felting on denim jeans.

We carry a wide variety of felting supplies including wool roving, hand-dyed felted wools and foundation.
We feature many tools to make your felting fun, safe, and easy: single- and multi-needle tools, mats and molds.
Now that you've decided that you want to start, the question is how. Trying a technique for the first time is always daunting. This year I've decided to rededicate a fair amount of my time, and my associate's time at Indygo Junction, to education – instructional videos, history lessons and downloadable PDFs. We want more people discovering their creativity; more people discovering the fulfillment they have "in their own two hands" (a favorite quote of mine from Mary Brooks Picken), and more people learning new things and growing as sewers and crafters.
To that end, we've produced an Indygo Junction "How To" video on Needle Felting. In it, we demonstrate each of the primary techniques to help get you started. I think you'll find it's a great way to get started.
Lastly, I'd like to reward one lucky commenter with a Needle Felting package containing a starter kit of tools. All you have to do is comment on a favorite needle felted item you've seen or owned, tell us why you think you'd like to learn to Needle Felt or share with all of us a needle felting story of your own. We'll draw a winner approximately one week from today!
Good luck…and thank you all for letting me share a little bit of my life and loves with you.
~ Amy
Amy Barickman is the founder and owner of Indygo Junction, The Vintage Workshop and AmyBarckman.com. She is a leader in the sewing, needle arts and retail crafting industry having sold more than two-million sewing patterns and published 80 books sold throughout the world. Her recent endeavor is the book "Amy Barickman's Vintage Notions: An Inspirational Guide to Needlework, Cooking, Sewing, Fashion and Fun", is already on its third printing since its release in September of 2010. Other best-selling titles include: "Indygo Junction's Button Ware" and, most recently, "Hankie Style".