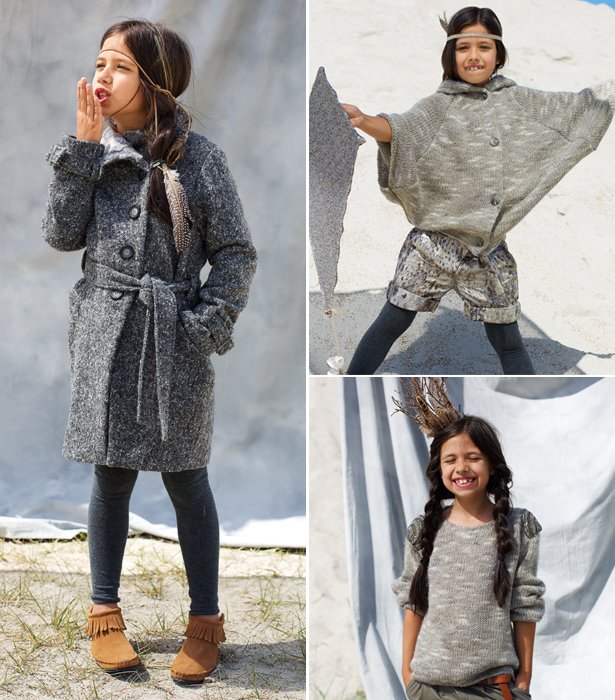 ShareThis
These little girls are adventurous and on the lookout! We are sharing this new children's pattern collection from burda style magazine's November issue. Casual cuts are seen in fabrics that play between the contrast of shiny and matte fabrics. Many cozy knit fabrics are used for those cooler days and we see lots movement in the designs for the little girls who want to play.
Batiste and sequins, just like what mom would wear! This T-shirt, with its wide neckline, hangs loosely and is trimmed in sparkling sequins. We love it paired with these comfy Sweatpants that are styled and made from sweatshirt material. The narrow hem bands are cut especially high to them a cool look and keep legs nicely warm.
This is the adorable Pleated Dress sewn from a matelassé. The dress has front pleats at the yoke, which give it lots of room for free movement. And the balloon style silhouette gives it a great look!
Stretch out your arms and let the wind catch you! Go for it with this hooded Poncho. The wide raglan sleeves allow totally free movement and four horn buttons hold the front firmly closed. It nicely contrasts with these Cuffed Shorts that have a fitted cut-on waist, with sewn-in pleats for comfort. They also include a tie belt for extra style!
Catching the light. Sequins are magically cheerful here in this lovely little Sequined Dress. They're dazzling on this 3/4 length sleeve dress with snap fasteners on the left shoulder.
Relaxed and casual best describes this Knit Pullover. Embroidered epaulettes adorn the shoulders of this pullover, which is sewn from knit fabric. We love it worn with these little Leather Trousers that are so adorably chic! They are wide and sewn in a nice nappa leather, the cut-on waistband is very comfortable and the slanted hip-yoke pockets have plenty of room.
The weather won't bother you in this Asymmetric Coat! This snuggly tweed coat doesn't just have a trendy, asymmetrical button fastening, but it also has a wide standing collar lined inside with soft imitation fur.
Happy Sewing!