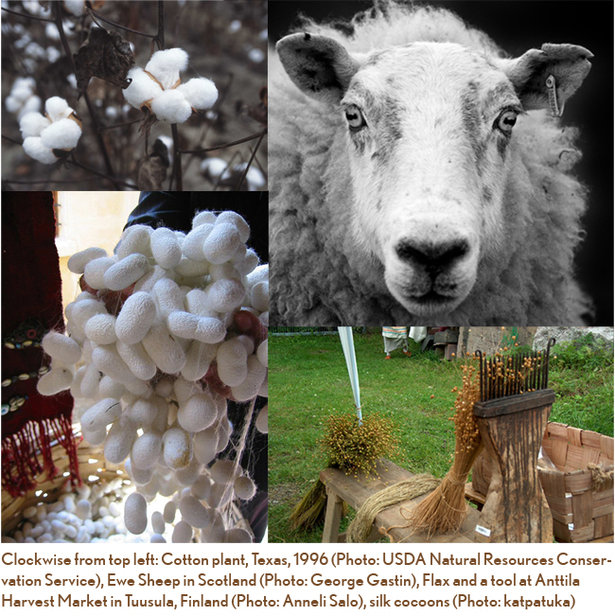 ShareThis
As I was writing this post, and as I was thinking about last month's post, I realized just how fabric-geeky this series is turning out to be.
Stick with me, though. This basic terminology will offer a pay-off later. I promise.
Now, to the topic at hand. Natural fibers, as the name implies, are derived from plants and animals. Plant fibers come from the stems, leaves, or seeds of plants. Animal fibers come from animals' fur—or their cocoons, in the case of silk.
The most common natural fibers are cotton, linen, wool, and silk. More exotic natural fibers include alpaca, camel hair, cashmere, llama, mohair, hemp, jute, and ramie.
Cotton is a seed fiber, starting its life in the boll of the cotton plant attached to the seeds. It is the most commonly used fiber in the world. Cotton is strong. It absorbs moisture and dries quickly. It is washable and dry-cleanable, and it has a soft hand. (Hand is how a fabric feels when you touch it.) Even though it's not the most ecological crop to grow, cotton is relatively inexpensive to produce.
Linen is the oldest and the strongest of the natural fibers. It comes from the stalk of the flax plant. It is relatively soft, absorbs moisture and dries quickly, and is washable and dry-cleanable. But linen has some drawbacks. It doesn't have great resistance to pilling (those little balls that form on clothing as the fibers break and get tangled together), it doesn't drape as well as cotton, and it doesn't have much elasticity.
Wool, as you know, comes from the fur of sheep. Different breeds of sheep produce different qualities of wool, all of which are graded according to the fineness of the fibers. Depending on the grade, wool can have a nice hand and good drape. It is warm because it absorbs moisture slowly and dries slowly, not cooling the wearer. Wool has excellent insulating qualities because the fibers are crimped, which allows air to get trapped between them.
Silk is produced by silkworms. When spinning their cocoons, silkworms send a fine stream of liquid through small openings near their heads. The liquid hardens into filament on contact with air. These filaments are harvested and spun into silk which has nice drape and a luxurious hand. It is a relatively expensive and exceptionally fine fiber that can be washed or dry cleaned. Soaps weaken silk. The fabric also degrades over time when in contact with oxygen.
Next month I'll discuss some common types of manufactured fibers, and you just might be surprised at what you learn.
—Liesl Gibson
Liesl Gibson designs the popular Oliver + S line of sewing patterns for children's clothing. Read more of her writing on the Oliver + S blog