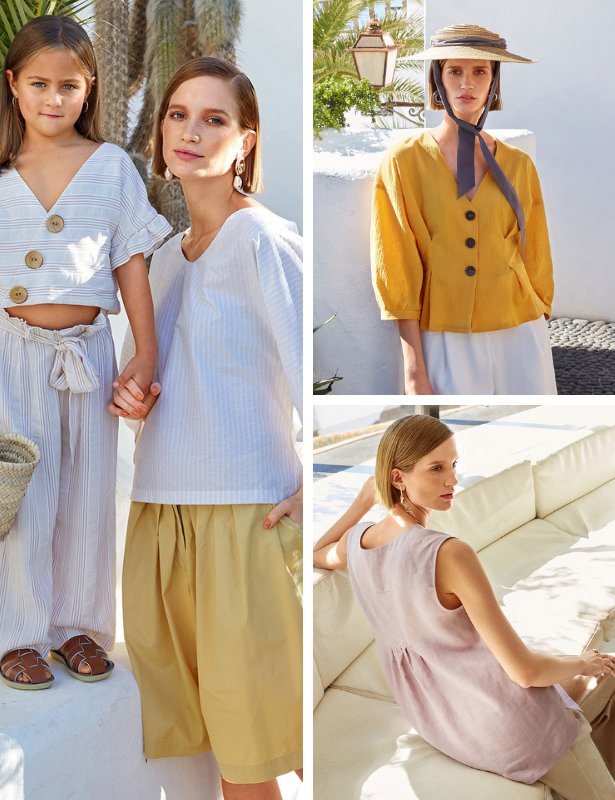 ShareThis
Cotton and linen are a great starting point for the trend toward uncomplicated fashion with timeless cuts and couture details. This collection is from the 05/2019 issue of BurdaStyle magazine.

Quick to sew and really stylish. This blouse includes extra-wide sleeves with quilted pleats that define and shape the look.



A perfect choice for a cool evening and for days at the office. The masculine style of the blazer includes a shawl lapel and pocket flaps sewn into the waist seam.



Masculine meets feminine with these pleated waistband trousers featuring contrast buttons. Also, adjusting this cut to different lengths can work for great shorts or Bermudas.



This V-neckline top is a clean-line look that is also quite beautiful with its partially stitched down pleats in the back and small slits at the sides.



Deep set-in sleeves and quilted pleats that let the extra volume spring casually from the midsection give this blouse a modern twist and style. For a timeless look, sew it in a black or white and match the buttons.



A style that shapes at the waist and at the hips while also being comfortable. The mini skirt has hip yoke pockets, too. A beautiful detail: All seams are finished with a double row of topstitching.



Gabardine in the trend color yellow lets the graphic details of this cut be remarkable without overwhelming. The stunning finish accents include decorative flaps at the waist, inlaid pleats and a flattering bateau neckline.



For the office and for an evening at the theater, this elegant dress in the wrap look accentuates in all the right places. Add an extra splash to the style by sewing the belt in a different color.



A style that cools on hot summer days and is especially comfortable. The shirt dress finishes at knee-length, stretches with a plunging V-neckline and is gathered softly at the sleeve hems.



Wide enough to move around and very cute! The shirt has ruffles to finish the look and XL-wooden buttons –best covered with aluminum foil while washing.



This trendy jumpsuit in a sunny yellow linen is a good mood piece! A touch of sophistication: the faux wrap at the bodice and gathering at the waist.



An elegant look that is just like the grownups! This midi dress with the tying shoulder straps includes a full-length buttoning placket and oversized patch pockets that is sure to quickly become a favorite to pull from the wardrobe.



The perfect last-minute piece for the holiday travel case. Relaxed linen trousers with a comfortable elastic waist and tying belt sew together quickly.


Download and make ALL these natural patterns with the discounted pattern collection bundle here!