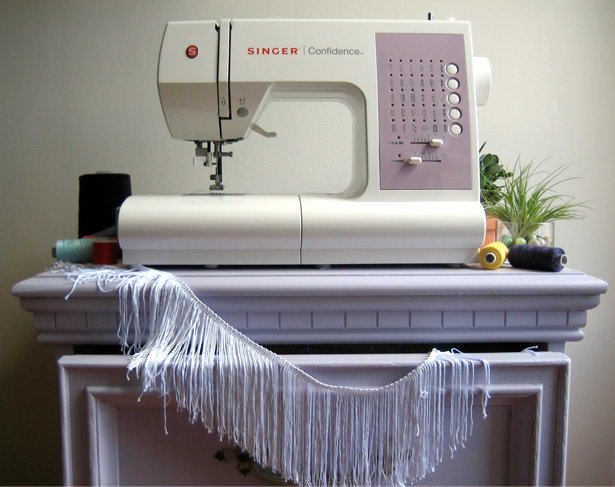 ShareThis
As Community Manager here at BurdaStyle and coordinator of our Featured Member articles, I've had the supreme pleasure of learning about all of the inspiring sewing stories from around our wonderful online community. In honor of SINGER's 160th anniversary, I am happy to share MY story!
My love of fashion and clothes started very early. I remember being incredibly picky with my outfits in preschool and kindergarten. I had a love for all things very girly, although now I am less interested in pink and feminine frills.

Me as at 5 years old in my favorite pink and white dress!
I taught myself how to sew when when I was about 10 years old. At that time I was dreaming of 1960's style bell bottoms but since they weren't available in any stores I took matters into my own tiny hands, therefore beginning my DIY journey quite unknowingly! Splitting the pant legs of a pair of old jeans to the knee, I inserted colorful pieces of scrap fabric – thus teaching myself about godets! Unfortunately, my first sewing project was not a success. The jeans were not fitted enough to begin with, so I ended up with a just making very baggy jeans with some weird shape below the knee.
Without a sewing machine I mastered the craft of hand sewing (and patience). When I was about 15 I created a small line of bags from recycled materials. I collected fabric scraps, buttons, pins, and beads for decoration on this very meticulous projects. A local store bought the bags and they actually sold! It was a great moment of pride to see customers interested in something I actually made.

Hand sewn bags from my teenage years
Skip ahead a couple years and I am living in New York City working on my undergraduate degree in fashion design at Parsons School of Design. The biggest shock of learning about clothing construction in an academic environment was relearning all of these techniques I taught myself, but now in the proper way. I also never touched a sewing pattern until a started drafting them myself for school! Boy, did I wish BurdaStyle had existed back then. If I had a better grasp on the way sewing patterns were supposed to look, my schooling would have been much less challenging. The ability to draft patterns is like learning a new language!

One of my favorite school projects
In every graduating senior's final year at Parsons, you must design and sew your own mini collection which serves as your senior thesis. Designing, pattern making, and sewing all six looks, a total of eleven garments, was definitely my biggest sewing achievement.

Inspiration board for my thesis collection

Rough sketches of the looks I would later choose to produce

Muslins, muslins, muslins!

My completed collection
My sewing story continues everyday at BurdaStyle as I continue to learn and be inspired by all of the incredibly talented members of this community!
Do you have a SINGER manufactured before 1970? Head over to MySINGERStory.com, type in your serial number and learn about your machine. Share your SINGER story on MySINGERStory.com for the chance to win The SINGER 160™ Limited Edition Sewing Machine!
Show and tell time! We want you to share photos of your sewing inspirations, your machine, or your personal history with sewing to celebrate this important anniversary. Simply submit photos to susan@burdastyle.com with the subject line "mySINGERstory" and wait to see if your shots appear in our Gallery album!