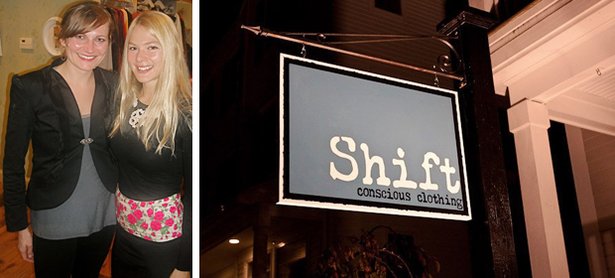 ShareThis
My apologies for posting this entry so late, I have been really sick. I moved into my new house last Sunday (yay!), but Monday morning I woke up with a fever and bronchitis. It is almost a week later and I finally feel good enough to be up & about. And what do you know? I just received, at this very moment, pictures of the Stella jacket project I wrote about last week (pictured above on Shift boutique co-owner Amanda Converse). I went to the Shift opening 2 weeks ago and was utterly impressed by the eco-chic boutique; all of the clothing, jewelry & accessories are made from sustainable materials or utilize organic or vintage elements. The shop itself was built from salvaged materials, vintage and surplus finds. The other co-pilot of this green fashion endeavor is a dear friend of mine; writer, blogger, buyer, indie-designer-lover, Amy DuFault, who writes a witty column for EcoSalon.com, an eco-conscious fashion & lifestyle blog. If you're into sustainability you should check it out.

I am so pleased to say that my Stella blazers have been selling! On opening night I think 3 were sold, and since then a few more. What I did to change the design elements of the pattern was eliminate the multiple strips which caress the front, and keeping just one, I used an organic silk strip of the same color of the jacket body and placed a small box pleat at the hip curve for a more feminine flair. I added a bit of volume to the top of the sleeve head for a sharper, more tailored looking shoulder, and finally placed a Dahl signature element of my hand-made pewter clasps for the front closure. What I would change in the future is the fabric. I used an organic silk/linen, but found it very stiff, like canvas almost. Next time I would find a more pliable fiber.

If you design eco-friendly garments you should really contact Shift via the link provided above- they are looking for more "beautiful, whimsical, and brighter pieces" as some organic clothing tends to be a bit on the dark side, with lots of of indigo, navy & black.