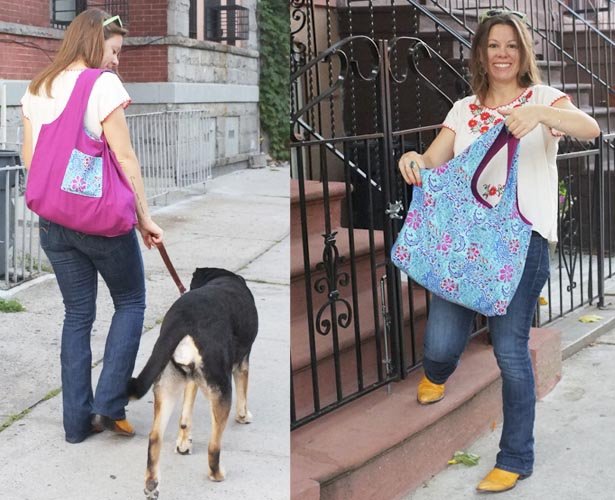 ShareThis
I had just moved to NYC – friends were few and my new apartment didn't lend well to my favorite hobby, oil painting. The need to take steps to fulfill my social and creative needs was evident. I began doing a little online research, attempting to find an affordable painting and/or sewing class in Brooklyn. This is when I stumbled upon 3rd Ward. Before I knew it I was touring the facility, seeing everything 3rd Ward had to offer, from woodworking to graphic design to fashion. Because I was looking for a painting class more advanced than the ones offered at 3rd Ward, it was clear I was meant to take their Sewing: Level I class instead.
To call me a novice sewer would be generous so a beginner sewing class was just what I needed, especially since I was now working at BurdaStyle. I made up my mind when I learned I would be sewing the BurdaStyle Charlie Bag in Sewing Level I – this class was going to be perfect!




On the first day of class the instructor, Tracey Toole, gave us a rundown of some important sewing basics: how to thread a machine, what was in our starter kit, where to purchase supplies in the city, etc. I found all the information particularly useful and she even made handouts for us for reference. Once we understood the very basics it was time to sew. We started off by sewing a small zipper bag for our starter-kit. My zipper was a little wonky but all in all I felt pretty proud of the outcome. Baby steps.





Tracey had transferred the Charlie Bag pattern pieces onto poster board for durable classroom use and we got down to tracing the pattern pieces onto our fabric at the start of day two.





I really wanted to make my bag reversible and Tracey was more than willing to walk us through the steps. I'm so glad she did. Now I have two different looks to choose from depending on my mood. Matching up my straps was my biggest challenge but perfection doesn't happen on the first try. I'll do better on my next bag. I'll definitely be making another.





Even though everyone used the same pattern, each bag looked so different from the next. Greg, on the left, was the fastest learner and Ramell, on the right, was the most adventurous with his variation. It was so much fun learning from Tracey and my classmates. I'm looking forward to Sewing Level II.