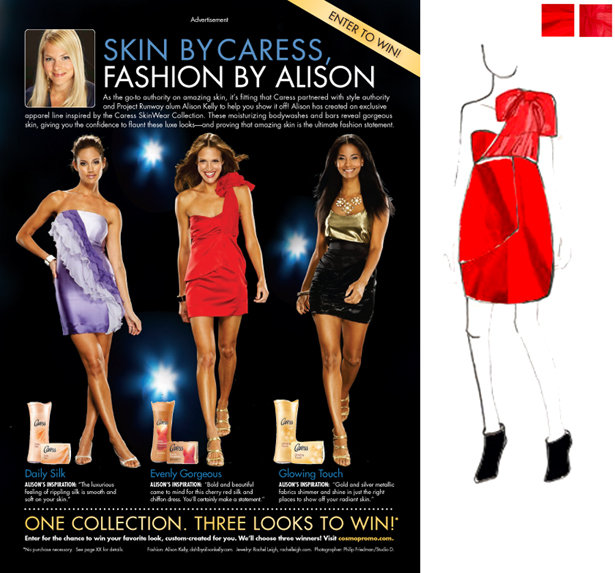 ShareThis
Back in May I began working with Cosmopolitan magazine and Caress skin care to create 3 looks which will ultimately be given away to 3 winners (once they've won, the winners receive the look of their choice in their respective size). After months of hard work; sketching, draping, drafting, the final pieces are featured in September's issue of Cosmopolitan! In September, Cosmo's website should have contest details posted as well.

This sort of partnership appeals to me for a couple of reasons. Here's how it works: Cosmo forms an exclusive with Caress. Cosmo finds a young designer to create a fresh allure to the brand. A budget is provided for the production of the 3 looks while the designer also receives a stipend. The art directors from Cosmo & Caress and the designer perform an in-house photo-shoot at Cosmo while the designer plays stylist. The spread is published and winners chosen. It seems as if it is a win-win situation for all parties included, as well as the 3 potential winners.

As the stylist, I borrowed jewelry from my friend Rachel Leigh to complete these looks- I love her new pieces. This is the second time I have worked with her, we also collaborated on a line of jewelry together in 2006 for a ShopBop.com exclusive… I would love to get into jewelry design again. I studied the art of silver-smithing throughout my college years- most intensively in San Miguel de Allende, Mexico, under Billy King- the infamous (well, infamous if he ever instructed you) madman of the Mexican jewelry circuit- and an incredible teacher. He has a school in San Miguel, Sterling Quest, which I would recommend to anyone who has the desire to learn the alchemy of silver-smithing. It truly changed my life in the most empowering way.