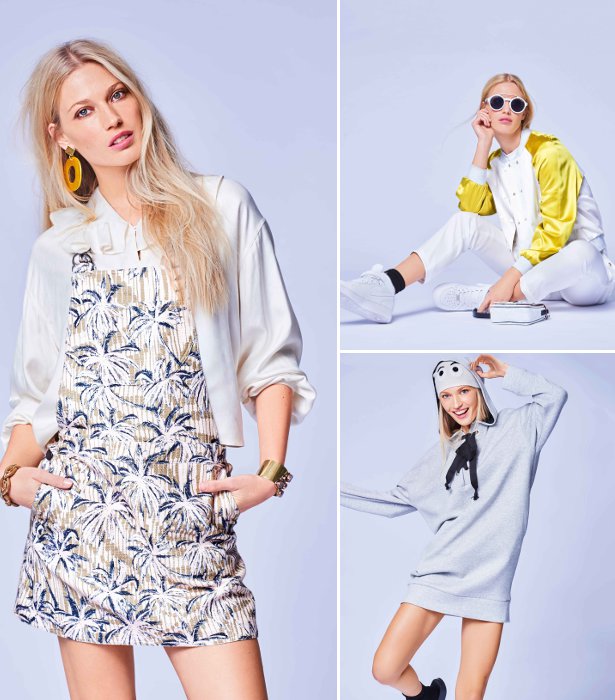 ShareThis
A bold printed jumper dress, satin bomber jacket and hoodie dress are all must haves for the ultimate "cool girl" and they're all included in this new collection from the April 2017 issue of BurdaStyle. Read on to see all the new patterns as well as editor picks for fabrics that you can sew these designs in from fabric.com.

Cotton + Steel Floral Periwinkle; Honeycomb Cotton Eyelet White; Cotton + Steel Les Fleurs Rosa Navy
Sweet and oh so cool: The romantic dress sewn with a millefleur fabric includes inserts and ruffles in a Madeira lace and gets contour with the black petersham. For a more subtle look, sew it with a solid colour crêpe rather than the floral challis. Important: To avoid a sugar sweet look, fashion it with a pair of derby boots and masculine trending accessories. Also, shortening the look makes it a super summer tunic.

Tommy Bahama Home Bahamian Breeze; Art Gallery Charleston Canvas Ananas Cream; Magnolia Home Fashions Bahama Sage
This is a great new version of the 90s favorite. The jumper dress is the trend piece of this summer and fresh details reign! Printed cotton replaces the original denim and straps thread through half rings. Fashion tip: A feminine blouse and heels give the skirt a more grown-up look.

Telio Denim Embroidered Floral; Kaufman Denim Washed; Art Gallery Denim Fading Darts
Denim can be very feminine. This skirt features a wide hip yoke that drops to a ruffled skirt with beautiful volume. The look is drawn in with a full length front panel from the hip to the hem. The denim fabric gives the skirt a variety of styling options that are practically without end …

Sweatshirt Fleece Heather Grey; Art Gallery Jersey Knit Bird Songs; Art Gallery Jersey Knit Wire Flowers Foil
Stylish and super comfortable. These reasons make this dress our favorite! It has the cut and details of a sweatshirt, with a playful touch at the large front panel with oversize eyelets and a wide contrast color ribbon
pulled through. A great look with boots or sneakers. Great even, without shoes, for relaxed times hanging out on the couch …

Kaufman Cotton Voile Supreme Wide White; Artisan Batiks Dyes Mottled Grey; Satin Batiste White
So couture! A fantastic blouse sewn with nearly transparent organza. A mandarin collar, cuffs and a button placket are sewn with a crisp cotton jacquard. For an opaque look, the bodice can either be doubled or sewn in a color-block look in a non-transparent fabric. This is a sharp and sexy look when paired with a pencil skirt.

Kaufman Radiance Cotton/Silk Satin Silver; Telio Robin Crepe Bohemian Print Black; Bridal Satin Silver
Joggers to the office or maybe for a walk in the city? Both are possible with the beautifully shimmering silk fabric and extras like the zippered pockets and cuffs. The elegant look is best worn with a blouse, blazer and heels . For an option best for relaxing around the house, simply sew them in a jersey or sweatshirt fabric.

Telio Stretch Prada Twill Cheetah Print Beige; Kaufman Ventana Twill Solid Beige; Poly/Cotton Twill Woodland Camouflage Brown/Green/Black
Wear it relaxed over a T-shirt and jeans or ladylike over a sheath dress. The lined and collarless waistcoat is sewn with an animal print piqué to lend a fantastic look to every outfit. Special features include practical seam pockets and a petersham tie that comes from the back discreetly. A great choice on warmer days in place of a blazer!

Kaufman Radiance Cotton/Silk Satin White; Rose Satin Jacquard Yellow; 2X1 Rib Knit White
Silk crêpe and cotton satin are a sizzling color contrast, as well as the matt-glossy effect for this jacket. This bomber jacket features placket pockets and rib finishes. Snaps are added for the pockets and in a double row down the front.
Want to sew all these must have pieces? Get all the patterns in the collection with this discounted pattern collection bundle! Download here.
This post was sponsored by Fabric.com