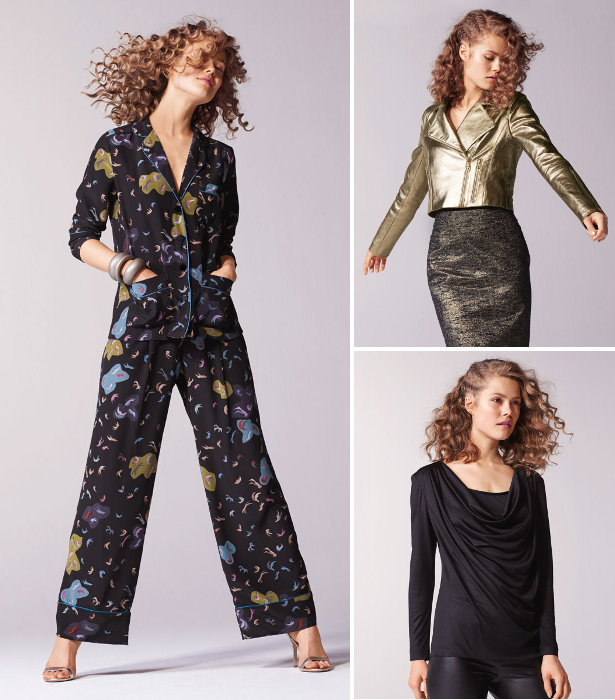 ShareThis
Is it possible to have it all? Yes! These fresh beauties from the January 2017 issue of BurdaStyle are glamourous pieces to transform us into the Queen of Cool – and they are also unbelievably comfortable to wear.
Thanks to the silk jersey, the waterfall neckline of this cowl neck blouse cascades in an especially dramatic way. For a sexy look, simply choose to wear the shirt without the separate top underneath.
Ultra-comfortable and so relaxed… an elastic casing at the waistband and piping trim at the hem add classic touches to these pajama style trousers.
The narrow mini skirt sewn in a shimmering brocade shapes a beautifully feminine figure.
Going to the party in a sweatshirt? A great idea – especially if the front and back pieces are sewn in a shimmering sequin fabric!
An incredibly flattering fit for this mini dress with the asymmetric flounce to decorate the front. No zipper is required so it can drape beautifully at every seam.
"It looks like pajamas" is totally on-trend. The blouse with the piping trim and patch pockets will rock every occasion. If you want to test the look, try combining it with a blazer and some leather leggings.
Do you find an evening dress often uncomfortable? Here is your (very sexy) solution! The satin for this slip dress is cut on the bias to give maximum swing. Wide bows at the straps and a band of black woven in are the highlights to replace jewelery. Fashionistas can pair this look with a black turtleneck that can work for the office, as well.
A must-have for every party wardrobe, a biker jacket sewn with a metallic leather! The cropped cut is a great look with high-waisted trousers and skirts!
Download all of these sewing pattern styles in the discounted pattern collection bundle here!