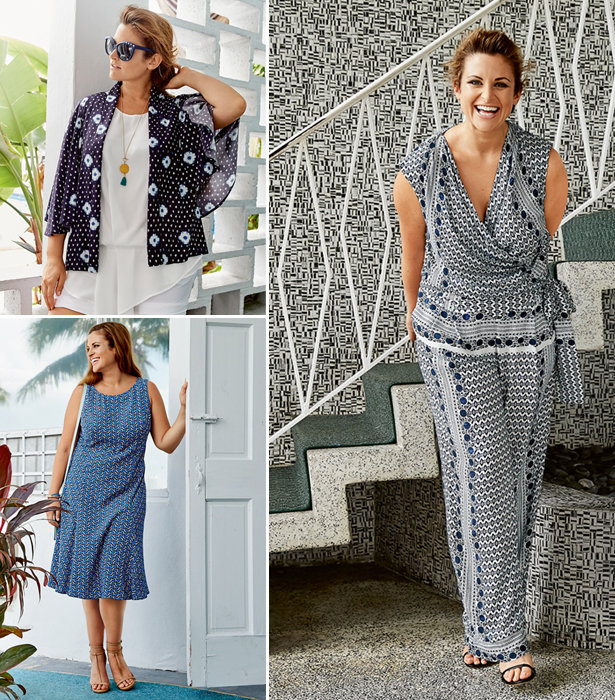 ShareThis
This new collection from the April 2016 issue of BurdaStyle features 10 new plus size sewing patterns for women including jumpsuits, dresses and a chic tunic. Blue and white… put them together and experience the great feelings of uncomplicated days by the shoreline. Sexy draping and elegant seam details make the styles beautifully unrestrained and sensual – a look that simply always feels just right.
Click on the pattern image to go to the pattern store page…
This shawl collar jacket features decorative sleeves.
This babydoll dress features sweet lace trims, a high neck, gathered waistline and short sleeves. It's girlish and flattering!
The side panels of this dress are cut on the bias so that the dress flares downward to form a sexy silhouette.
This kimono jacket is perfectly paired with jeans and a loose tank for spring days.
This '70s style maxi dress has a modern-day interpretation with puff sleeves and a maxi skirt topstitched with ruffles reminiscent of the wild woodstock era. The silk batiste and shaping aperture at the waist give it a flattering fit.
This fancy jumpsuit made using a crepe material transitions perfectly from the office to cocktail hour or can even be worn to a nicer event if you dress it up with jewelry.
This comfortable and chic tunic features a v-neck and flowing sleeves. Pair with skinny pants to offset the silhouette.
This easy dress features a v-neck, a loose fit and capped sleeves. The extending seam lines swirl gently around the body.
This flattering dress features short sleeves, a keyhole opening at the front, and short sleeves that are reminiscent of a romantic peasant blouse.
The draped neckline of this stylish jumpsuit adds sexiness and the wrapped belt emphasizes the waistline.
Happy Sewing!