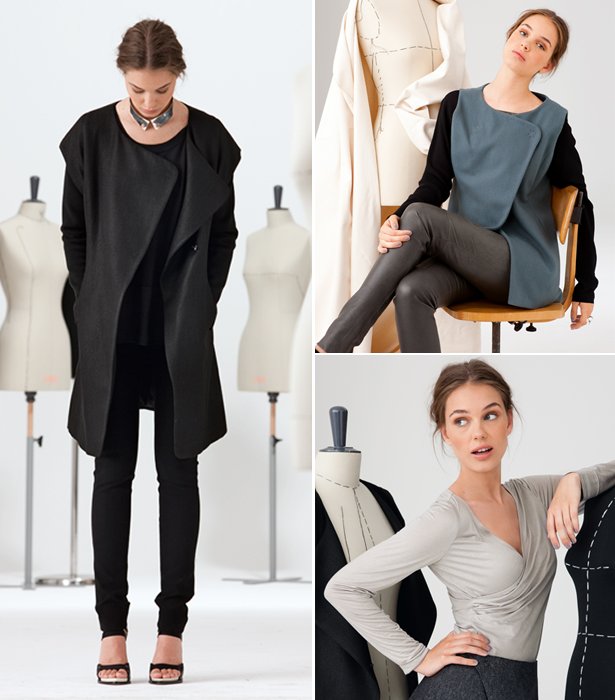 ShareThis
This new pattern collection from burda style magazine's October issue is a must see. These fashions are out of the ordinary. Unusual lines and minimalistic looks in fabrics both classic and modern shed new light on drapings, A-lines, and pleating techniques.
This is the gorgeous Cowl Dress. A bias cut, cowl neckline and small waist gathers all work together to make the tweed fabric appear as light as a feather.
This Flared Skirt features unique pockets and is sewn in an ultra sleek techno-gabardine.
Just slip into this jersey Top – it only looks like it's wrapped because the front pieces are caught in the side seams. This top is so figure flattering and accentuates the bust. We love it paired with this unique Hip Wrap which is an overskirt of leather, wool, ans felt that hugs your hips like a wide belt. The edges are left unfinished and it's closed with snap fasteners. It looks great worn over slim trousers!
This double-breasted Illusion Jacket makes all the difference in the world! This lined jacket seems to be in two parts, but the slender long sleeves are firmly attached to the short wide sleeves.
Here is the Gathered Shirt Blouse. The pleat in the wide neck edge looks almost accidental. There are gathers at the waist an invisible zippers on the sleeves. All these details make this shirt blouse a real trend-setting garment. We love it paired with the Slender Pencil Trousers, with long legs and side zip mold themselves to the figure. They look and feel great when made in a 2-way stretch fabric.
This slightly fitted, long wool Asymmetric Waistcoat with inseam pockets is a prime example of understated style. Concealed snap fasteners emphasize the clean look.
This Folded Yoke Blouse has simple details that give it big impact. Folded yoke pieces are simply caught in the shoulder and sleeve attachment seams. They turn an otherwise simple blouse with V-neckline into a unique garment. We love it paired this slick Pocket Skirt! It has an A-line silhouette, and pockets that are hidden behind the darts.
This feminine Gathered Cowl Top flatters the body, and has a gorgeous cowl neckline. Wear with any bottoms to amp up the volume.
All these designs are ultra sleek and super classic with a modern twist. Try making one are all of these lovely garments.
Happy Sewing!