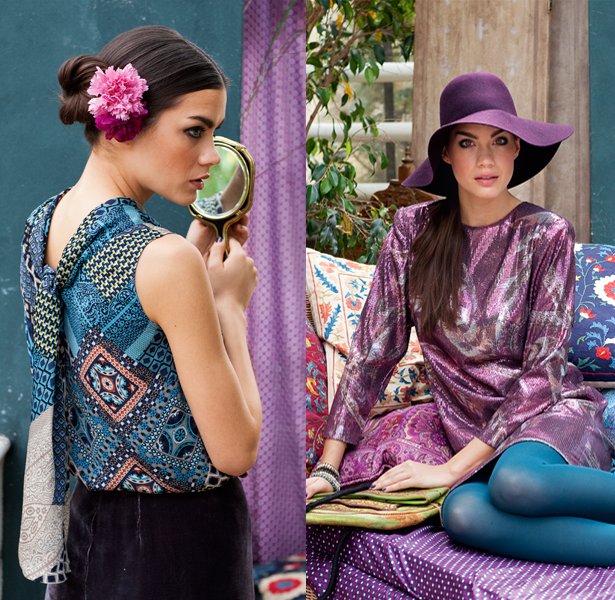 ShareThis
Check out this new pattern collection we are sharing with you. Modern Enchantment is a collection that blends romantic styling with stylized lines and luxurious fabrics. These styles are comfortably elegant and take on bold colors and opulent prints beautifully.
These enchanting patterns will add great color and detail to your wardrobe. From structured jackets and dresses to flowy tops and pants made in silk, this collection provides a variety of garments that you can make at home. Any of these styles will make you look and feel like a world traveler, take a look at all the patterns below…

We love this form-fitting Seamed Dress and think it has great style lines. This is an elegant dress that can be worn to a number of special occasions. You can sew it in a nice metallic like this one for an evening dress, or opt for a printed silk or cotton for a dress perfect for daytime.

Here is a lovely outfit consisting of the Shawl Collar Vest and a great pair of Wide Leg Trousers. The Shawl Collar Vest has princess seaming and a long attached scarf. Wear this vest over virtually any outfit for a pop of color. We love these easy fit Wide Leg Trousers that you can sew with or without a cuff. Cuffed or not, these comfortable pajama style trousers have nice wide legs and front pleats. You can make it in a classic solid fabric, or get wild by cutting them in a print.

We adore this Embellished Jacket and think it is a true piece of art. It has limited style lines and a lot of structure. This jacket features beautifully embellished sleeves and a clean center front opening. This jacket is sure to jazz up any outfit.

This is a simply elegant Scarf Top . This top is beautifully cut and we love the pretty attached scarf that ties in the back. This stunning top has a loose fit and side slits. Wear this top with all your favorite bottoms, like a nice pencil skirt or even a pair of jeans.

We love this classic 3/4 Sleeve Dress with shaped front and back darts. This dress has 3/4 length sleeves and a moderate hemline. Sewn in a sequin fabric makes this dress a great evening style, but try cutting it in a fun printed cotton for a daytime look!

Here we have a stunning Jacquard Jacket that has a lovely embellished round neckline and sleeve hems. It has a clean cut center front with no closers, and simple style lines. This jacket has just the right balance of style and sophistication and looks great worn over your little black dress.

This Two-piece Dress has the look of a top with an attached skirt. We love how this dress has a loose fitting silhouette and think it's great for both day and night. You can choose to cut each piece in contrasting fabrics, or for a unified look sew in the same fabric.

For a fun addition to these great styles, try making this Crocheted Necklace that has an easy to follow tutorial.
These styles have a flair that will sure spice up your closet! Sew one or all of these patterns and utilize all your favorite bold fabrics. For an easy sewing project try making the Scarf Top which includes extra detailed sewing instructions, or you could sew up the Embellished Jacket if your feeling crafty.
Happy Sewing!