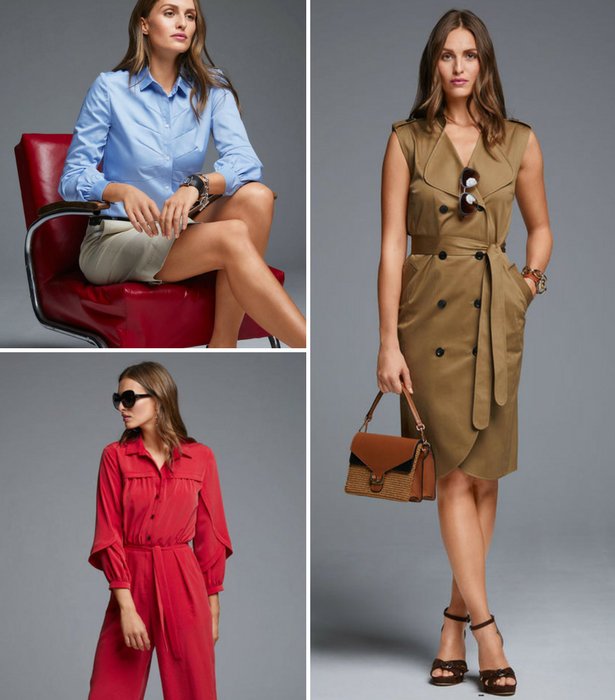 ShareThis
Unexpected and new style elements are a breath of fresh air for favorite (business) classics like the poplin blouse, trench coat and blazer. This collection is from the 04/2018 issue of BurdaStyle magazine.

Our favorite skirt shape gets a feminine makeover and not only with a wrap, but also with a decorative flounce. Contrast coloured buttons punctuate the newest style option.



This white poplin blouse has all the right touches for this season's trendsetter look. Short sleeves with touches of ruffles and a romantic tying belt at the waistline are perfection.



All eyes on you! This jumpsuit sewn with a crêpe in an on-trend red is a showstopper with elegant sewn-in bands at the sleeves, front and back panels that add a cool layering effect to the overall visual.



Diagonal darts along the button placket aren't only good for shaping, they also accentuate an unexpected look to "this blouse ":http://www.burdastyle.com/pattern_store/patterns/darted-blouse-042018?utm_source=burdastyle.com&utm_medium=referral&utm_campaign=bs-meh-bl-180423-ModernClassicsCollection-105A. The drawn-in sleeves add interest, as well. Tip: Trace the darts exactly onto the fabric with tailor's chalk when preparing the pattern – this fabric isn't forgiving for removed stitches.



A confident and sexy look with this dress in an Italian hem length. Classic trench details like the double-breasted placket, storm flap and tabs are naturally included. The newest update includes figure shaping panels with just the right amount of swing.



This blouse throws some serious shade on any striped blouse that has come before. The XL sleeves get finished beautifully with petite cuffs. The style is one that also lets the fabric be as playful as you would like. For instance, to lean towards the dramatic and serious, sew it in a silk or cotton with body – to give the sleeve caps an impressive lift and a pronounced look. Sew it in a jersey for a softer touch.



An asymmetric, softly draping front is pulled together casually with only a belt; a long and deep shawl collar and narrow sleeves…this trench coat shows its feminine side – right along with a tribute to traditional details like the storm flap, epaulettes and the tabs of its classic forerunner.



A charming hour-glass silhouette thanks to the tying belt at the waistline and softly puffed sleeve caps. The collar design on this blazer includes a banded portion as well as a pennant front. In a twist from the usual, the buttons get full exposure on the front of the sleeve rather than being hidden.


Want all these classic styles with a modern twist? Get them ALL in the discounted pattern collection bundle here!