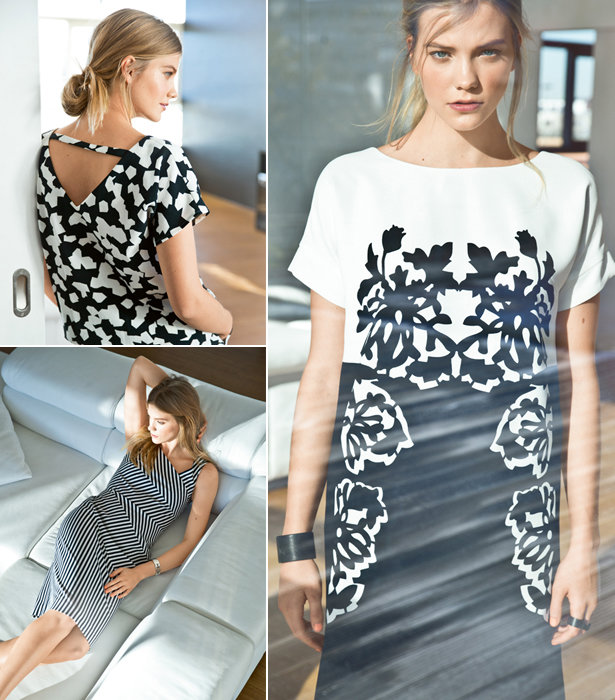 ShareThis
This collection from the April 2016 issue of BurdaStyle features 11 new sewing patterns for women that are reminiscent of mod style and color patterns. Uncomplicated cuts and elegant playfulness using bold patterns and fabrics; This is fun fashion in sleek black and white.
Click on the pattern image to go to the pattern store page…
A tank with a little extra detail! There are tucks set outwardly at the neckline and it has a boxy fit.
This smock dress is a great option for day or night as it can easily be paired with lace up sneakers or platform sandals. It features a v-neck, no sleeves and a zip in the back.
For those who love overalls but find them inconvenient, these wide trousers feature a wide yoke and inverted pleats used in combination is just right for you.
Make a statement with this bold sheath dress. It highlights a curvy silhouette and features a fun asymmetric neckline.
This sexy short sleeve blouse features an open triangle back but don't worry, it won't slip off your shoulders thanks to a bar strap at the shoulders.
As comfortable as a t-shirt but a lot more chic. This lightweight silk tank is almost waist-length and is a basic top that can be made in a variety of colors or prints.
A well-cut spring coat is an essential basic in any wardrobe. This kimono coat is very on trend and closes with an easy fabric belt.
The beautiful print of this dress makes it a standout. It features short sleeves and an open triangle cutout back.
The front panel of this skirt is cut obliquely and it features a seductive triangle slit at one side.
Ankle length, long and narrow. These cigarette pants feature flap pockets and should be a staple in every woman's closet.
This shift dress has a curved yoke at the front, it's straight cut and doesn't need a zipper, just a button closing at the neckline.
Want to sew all these styles? Download the pattern bundle here.
Happy Sewing!