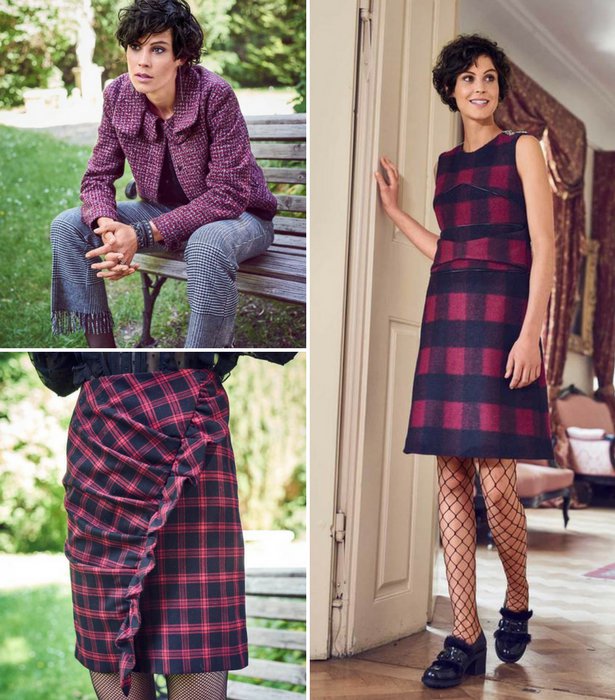 ShareThis
A bit punk rock and a splash of romance… dresses, jackets and more in playful fabrics that awaken the fashion rebel charm. This collection from the 10/2017 issue is one that you can really mix and match with no fear as stripes and plaids are in!

This top takes care of the dramatic addition to your wardrobe. The velvet shirt includes overcut shoulders and lace sleeves. The waistline is adjusted with attached bands and D-Rings.



A sporty cut melds with a heritage fabric for an incredible new twist for the retro-style boxy jacket. The wool fabric and the pleated Peter Pan collar design are ultra-feminine.



Fashionistas are wearing the kilt this season –naturally with classic pleat details and clasp. The cut-on flounce in front is fresh and when worn with a classic blouse and booties it works for the office, too.



At first glance, the blouse seems quite proper…until you look more closely to find the wild lipstick kiss print to bring a smile. The zippered front slit and ruffle accents are also details that surprise. For a more modest look, a lightweight solid colour gabardine also works beautifully.



Simply pull it on and be perfectly styled. The two-layer relaxed blouse with the deep V-neckline and cropped flounce sleeves is great for days on the go. An added point in that favor is the cozy flannel fabric.



A bit of extra effort yields an incredible impact on the overall look for this skirt. Pleats along the front panel seam lend the stretch lace of the pencil skirt an additional touch of flexibility (and therefore, extra comfort!).



This variant on the pencil skirt is super trendy with its sewn-in ruffle. the mini skirt zips up at the center back with an exposed metal zipper.



Pattern placement and cutting requires special attention for this style. The sizzling result is worth the effort. Rather than darts, the shape is from crossing panels that get further definition by leather piping at the bodice and waistline. The shoulders get a splash of accent with decorative trim that is reminiscent of epaulettes. A look to turn heads.


Download the entire collection here at a discount and sew them all!