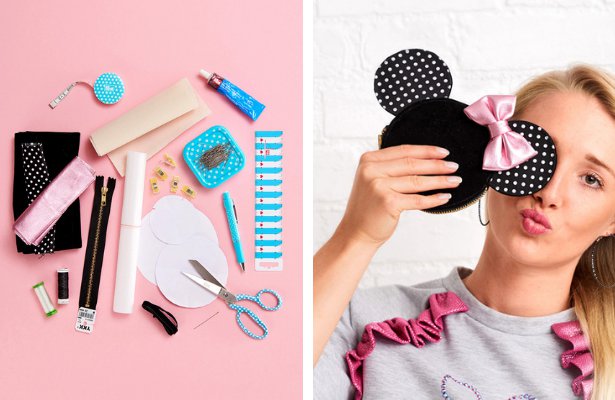 ShareThis
Give away or keep yourself? You can do either – or both! This cute DIY bag is a real space saver: both change and lipstick fit inside. You can use it as an adorable clutch for an evening out, or use inside a larger bag to keep all your small items together. Read on to download the free template and see how it's sewn together.
All images: © Jan Schmiedel

+ Velvet
+ Cotton
+ Metallic leather
+ Decovil light
+ Vliesofix
+ Zipper 20 cm long
+ Thread
+ Chalk
+ Pins
+ Hand sewing needle
+ Pins
+ Tape measure
+ Velvet ribbon (optional: for the strap)
+ Scissors
+ Leather Glue
+ Clips
+ Ruler
+ Template (download here for FREE)



Step 1: Cut the middle-sized circle twice from Decovil and iron to the wrong side of the velvet fabric. Then iron and cut 2 large circles of Vliesofix.



Step 2: Then iron the cotton fabric. To pull in the edges, hand stitch basting stitches along the edge and pull it in evenly towards the cotton side so that the seam allowance lay inwards. Do this for each circle.



Step 3: Evenly sew one side of the zipper with a zipper foot evenly along half of the round circle. Make sure the zipper teeth are close to the folded edge of the circle, then open the zipper and sew to the second half (other circle) of the small bag.



Step 4: Cut ears (small circle) twice from Decovil, then iron to the wrong side of the velvet fabric. Then mark the notches.



Step 5: Place dotted cotton fabric right sides together and stitch around, along the Decovil between the notches



Step 6: Just cut back the seam allowance along the seam and turn both ears to the right side. Then topstitch around the circle close to the edges starting and stopping at the notches.



Step 7: Place both ears at each end of the zipper and using clips bring two larger circle together – sandwiching the ears in-between the two purse pieces. If you like, you can add a velvet ribbon as a strap to the top. Then topstitch along the curve to put everything together.



Step 8: Cut leather (about 20 × 12 cm) and fold in the long edges, then the other smaller edge and sew by hand.



Step 9: Cut leather strips (3 × 9 cm). Coat with leather glue on both sides and fold into the middle.



Step 10: Then place the glued-in leather strip around the loop from step 8, fasten with clips and sew by hand. Finally sew on the bag.



FINISHED!



Fill with all your small goodies and take out on the town!