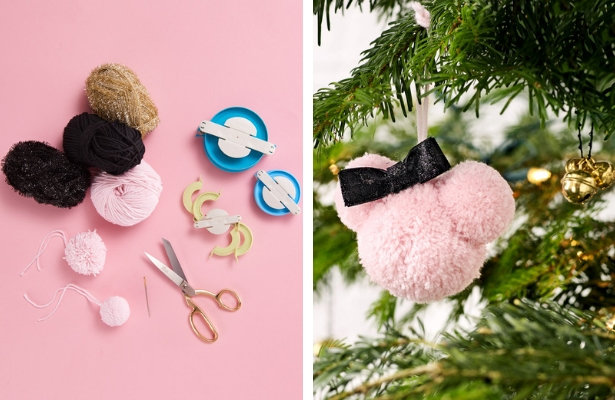 ShareThis
These cute mice made of pompoms not only decorate the tree, but can also be a great gift idea for young and old. Making pompons yourself is very easy and can be used wonderfully for the processing of yarn scraps!
All images: ©Jan Schmiedel

+ Wool yarn
+ Pom Pom Maker
+ Hand sewing needle
+ Scissors
+ Glitter ribbon



Step 1: Open pom pom maker and wrap the wool on both sides as per the instructions.



Step 2: Then carefully cut both sides with a pair of scissors.



Step 3: Firmly tie a piece of wool thread in the middle.



Step 4: Open pom pom maker, remove the pompom and cut it evenly.



Step 5: So make two little pom poms and a big one and sew the two little ones by hand to the big pom pom. Also leave a long yarn tail at the top to make a loop.



FINISHED! Add a little bow on the side and your tree is ready to celebrate the holidays along with Mickey Mouse's 90th anniversary.