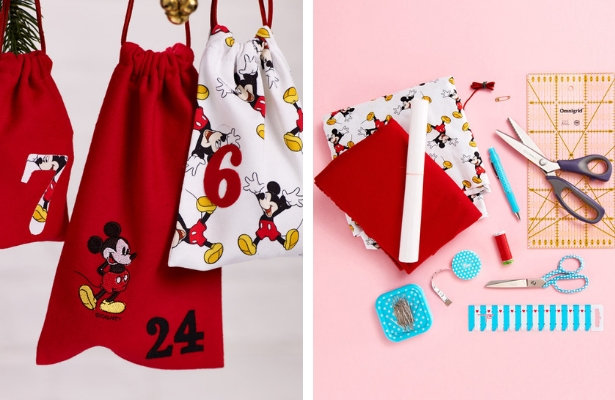 ShareThis
A DIY Advent Calendar for the entire family. With this awesome Disney-inspired advent calendar featuring Mickey and company, you'll feel like a kid again! Fill each day with little goodies to count down the days until the holidays.
Images: © Jan Schmiedel

+ Mickey fabric (try this holiday print!)
+ Red fabric
+ Vliesofix / HeatnBond
+ Leather band 3 mm
+ Thread
+ Ruler
+ Scissors
+ Hand sewing needle
+ Tape measure
+ Pins
+ Chalk
+ Safety pin
+ Pinking shears
+ Numbers template (download here for free)



Cutting: 24 rectangles in different sizes with chalk pen record and cut out (here approx. 16 × 38 cm).



Clean edges with pinking shears (or overcast with overlock). If you want, you can now embroider the bags with the brother Innov-is M280D embroidery machine.



Mark openings for the drawstring 1 cm away from the top edge at 3 cm.



Fold the rectangles right sides together and stitch the two side seams at 1 cm skipping over the drawstring openings.



Press open the side seams and iron the top edge of the bag at 2.5 cm and secure with pins.



Then stitch around 2 cm from the upper edge and stitch the ends well.



Use the safety pin to pull the leather tape into the tunnel from both sides of the bag.



Draw the "numbers from the template": mirror-inverted on Vliesofix and iron on the fabric. Then cut out, peel off paper and iron on the bags.
Want more advent calendar DIY options? Check out these below: