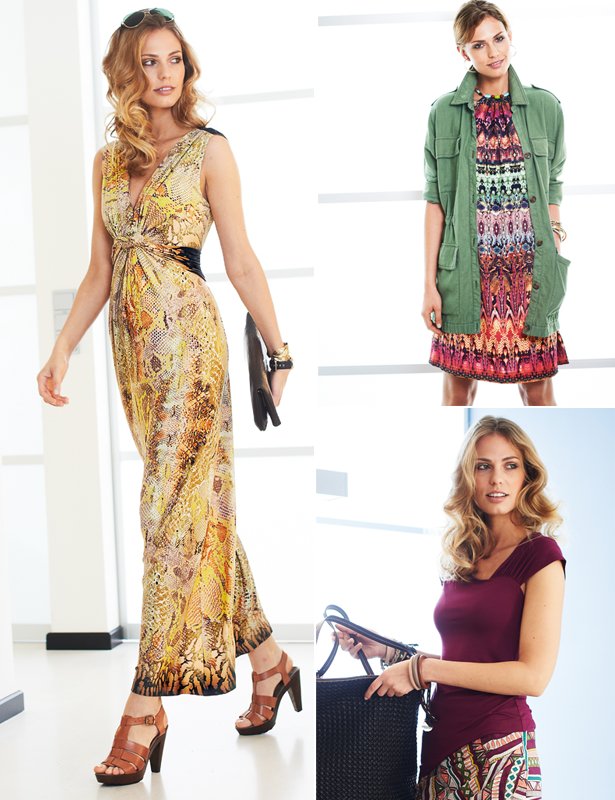 ShareThis
Ditch this cold dreary weather and soak up the sun in this new pattern collection Miami Heat! These cool new sewing patterns are from burda style magazine's February issue. Fun prints are brought to life in sexy dresses and skirts, while the jackets are kept cool and casual. Bring on the heat!
You can already start dreaming of vacations in this knee-length Jersey Dress with its smartly draped, low-cut neckline. It's a style you can slip into easily, as it's fastener free!
This asymmetric, berry-colored Jersey Top is just beautiful! Its wide strap wraps around to one side of the back. We think it looks awesome paired with this wrap-effect batiste Skirt, smartly pleated at the front.
Here we have the ultra sultry Maxi-Dress. With such intricate fabric, the style can afford to be plain. Smocked seams skillfully accentuate the narrow waist, while long slits reveal the legs.
Here we have re-interpreted the classical Safari Jacket – and even given it a feminine look! The linen is pre-washed, so it hangs softly. It is shaped at the waist by an elegant understitched drawcord. True to style are the epaulettes and sewn-on maxi pockets.
Easy to sew, and great impact this Halter Dress has! Summer is always just around the corner with this knee-length crepe dress featuring extra-wide armholes and halter neck strap. The sewn-on beads and stones make it a real gem.
Be brave! This wild Short Sleeve Jacket is sure to turn heads. It has sewn on beaded trim that really take it to that next level. With the short sleeves you can wear all-year long, and it's great for layering. Try wearing with these pair of lovely Print Trousers. The wide shape and elasticated hems make this casual style of trousers both comfortable and stylish!
This sleeveless Petite Dress with low-cut neckline is just what you need if it gets too hot in the office. The wrap effect and draping at the front give the dress an elegant edge. This style also adds height to shorter women, so we offer it in petite sizes.
This Twisted Maxi-Dress is a master piece! Don't worry, you don't have to strain yourself. This dress itself provides enough entanglement with its integrated ties, gathered at the front and intertwined. The illustrated instructions will help you create the perfect effect.
Happy Sewing!