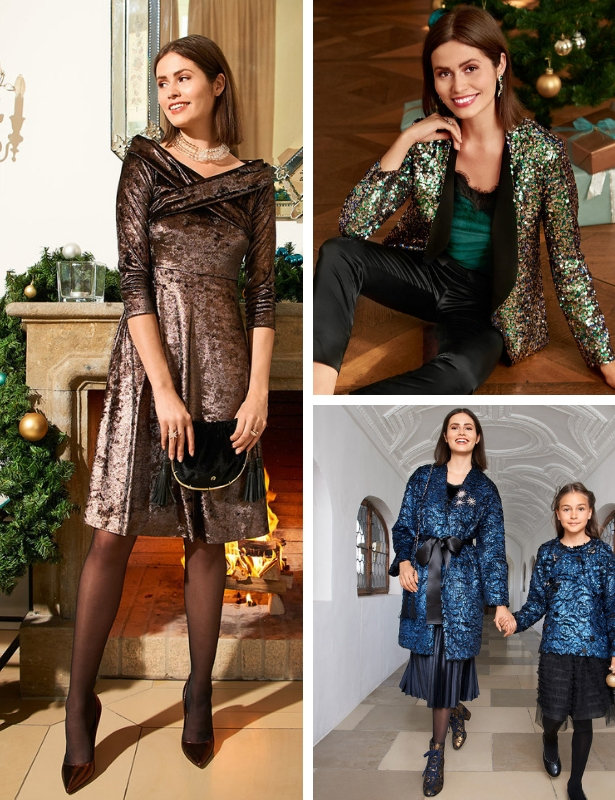 ShareThis
Sequins, silk and satin is what you'll find in this collection from the 12/2018 issue of BurdaStyle magazine. The holiday season is one for the fashionista of all ages to parade classic elegance in beautiful fabrics of silver, gold and mint.

A look to give a peek at winter skin that still keeps the chill away. Extravagantly embroidered tulle is worn over a satin slip – and the slip adds volume to the skirt, as well.



Is there one must-have in every wardrobe? We would say absolutely to have a pair of great fitting trousers like these! The narrow, ankle-length cut has the effect of a never-ending leg, and the attached bands at the waist are sure to draw a second look.



This is when first impressions count and you are the star of the evening! This glittering sequin blazer with its dropped lapel in a deep black drapes casually with an open front and includes panel seams that draw it softly against the figure. Style tip: Pair it with distressed denim, a T-shirt and sneakers for a look that works for casual days, too…



Swing on through the festivities with this circle skirt sewn in a jacquard with an enviable drape. A sequin trim is topstitched at the waistline to give it the effect of a narrow belt finish.



Mini-me: This skirt is a great choice for younger fashionistas, too – this style is a bit shorter and has a bit less volume to the swing. For a style that works for every day, it also can be sewn in denim or corduroy.



This style includes sexy pleat details at the neckline and sophisticated closures at the sleeves for a look that is sure to be one you reach for often.



Delicate dresses to thick wool sweaters can all be worn comfortably under this relaxed cut coat with dropped shoulders and generous sleeves. The coat can keep you covered for your full winter wardrobe. Draw it in at the waist with a wide bow of satin.



Glittering, sparkly and still beautifully warm! This pullover is sewn with a coated faux fur that is decorated with a design of beads and sequins. The simple lines are a good choice for beginning sewists and as a sewing skill builder.



The clean lines of this cut give you the freedom to use an extravagant printed jacquard to an especially beautiful effect. The modest touch: a wide hem flounce.



A subtle shaping style that follows the curves with crossover lapels along the neckline and a flared skirt panel. If you prefer the look to cover your knees, this style is an easy one to adjust the length.



The deep neckline and pleats on this shirt are details that underline the fine and wonderfully relaxed style. It is sewn with a sensational printed jersey. A matching tying band lets you adjust it around the figure.



Let the youngsters shine in this cropped sequin top with mini sleeves. It closes in back with a tying band. The cut is roomy enough that a warm turtleneck can also be worn underneath…



This one is as stylish as a blazer, though a much easier layer to wear. The straight-line coat style with cropped sleeves and patch pockets is a good choice for the changing weather of the season. It can be worn indoors and outdoors – perhaps a good one as a present to make for a child or a grandchild…


Make everything you need for all your holiday parties this season with the discounted pattern collection bundle here!