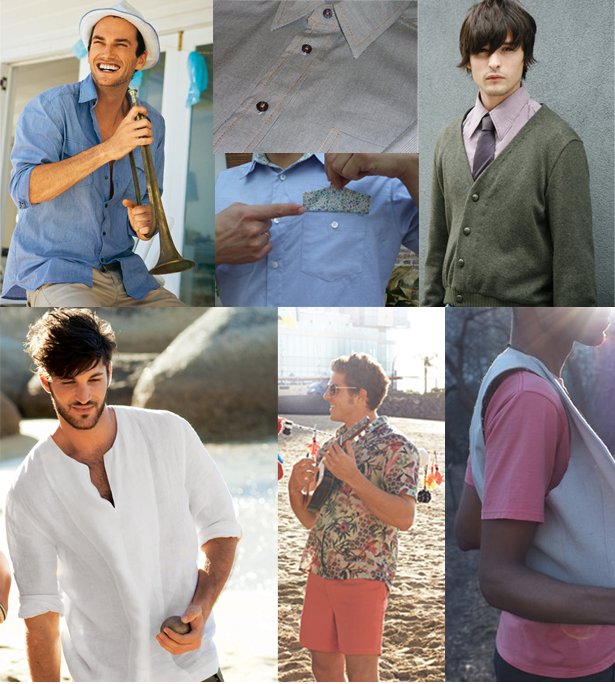 ShareThis
It's not every month that we see menswear patterns in burda style magazine, but in our April issue there were two new summer styles we just had to share with you! In this post we have also gathered some of our favorite men's patterns on the site along with inspiration from member projects.
We hope that you will feel inspired to make something for yourself, a friend, significant other, or dad perhaps (Father's Day is coming up!). Make the perfect summer shirt or a fun vest! Scroll down for inspiration!
Two new men's patterns from burda style magazine: Hawaiian Shirt and Summer Shorts
The Men's Linen Shirt is one of our all-time favorite menswear patterns on the site. Just imagine how great this shirt would be in a yellow or peach-colored linen.
The Men's Summer Shirt is a great casual shirt. We love what member, ttnora from Hungary has done with the contrasting stitching in her project Twins (top right) and what la inglesita from Spain has done with the pocket lining in the project She made this (bottom right). It's all about the details!
Our Andrew Cardigan is a great basic cardigan. Member kitzler from Canada used contrasting shades of green (bottom right) and Ophelia K from Japan makes her version (top right) in a striped fabric with contrasting cuffs.
You can never go wrong with our Jason Vest, it has a classic look and a slim fit. David's version (top right) is a minimalistic take on this classic style. He scrapped the pockets and buttons and gave the bottom a straight cut. We are absolutely in love with Ralf Schmitz's Vest In denim with color blocking in two different denims and not to mention the amazing craftsmanship behind it!
Two versions of our Amin zip up jacket – one in a gorgeous knit fabric and the other in an stunning Pendleton wool.
As you can tell, our Jochen pants pattern is very versatile. Make a classic pair of slacks, chinos, or shorts. The chinos on the top right are by Toronto-based member oodko and the shorts are by lonemoose of New Zealand.
Last but not least, three versions of our Jakob shirt – the original on the left, a short sleeved version by Tokyo member verypurpleperson (top right) and a fun take with a vintage E.T. print fabric for the yoke by Krysia in Ohio.
Happy sewing!
- Emmy and Jamie