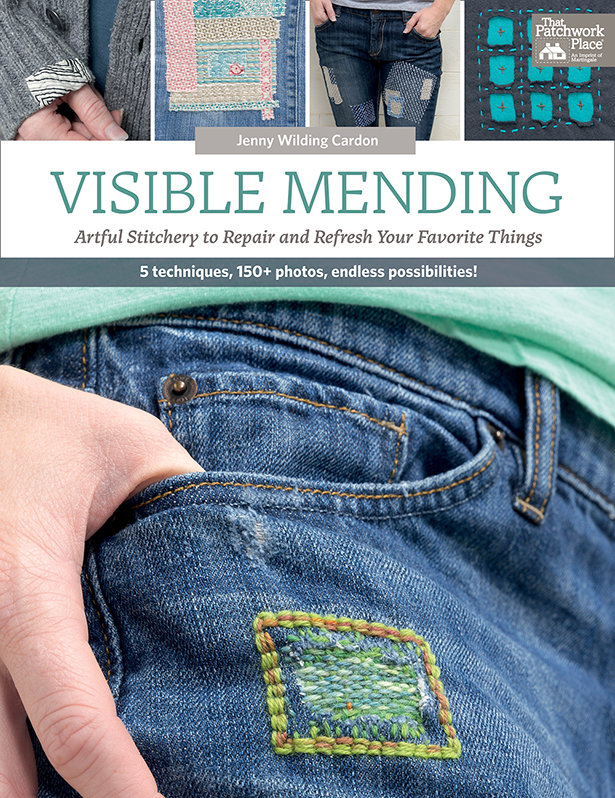 ShareThis
Read on to see one of the techniques featured in the book as well as a comment to win book giveaway…
Hello, Burdastyle! I'm Jenny, and Meg was kind enough to let me share a little about my new book Visible Mending with you.
But before I do, let's just get it out in the open—mending? That's a chore for sewists, not a fun or exciting endeavor! I used to think so too. But I think there are two things you need to have in order to be creative: skills and ideas. When you try to invisibly mend, the goal is to hide your stitching. Although that takes skill, it's not ideal for inspiring ideas. But when you visibly mend, your skills and ideas go hand in hand, and soon you're creating something beautiful, or funky, or elegant, or wacky … but something that's truly one-of-a-kind. Because no one's repairs will be alike, and no one will mend something quite like you.

Examples from Visible Mending

In this guide to giving worn clothing and fabric items new life, you'll discover not only inspiration and eye candy (35 examples and 150+ photos), but multiple how-to methods to experiment with—Japanese boro stitching, embroidery, patching, darning, and machine mending.



In a world of fast fashion and throwaway quality, visible mending offers the opportunity to step away from that world and put love, thought, and care into pieces we truly treasure.
Meg asked if I would share a visible-mending tutorial from the book with you, and I'm excited to do just that today!
TECHNQUE: HOW TO DARN WOVEN FABRICS
Most of us probably think of darning as a way to repair socks and sweaters—knits only. But did you know that you can use darning on woven fabrics too? Here's one example from Visible Mending:



This hole in a pair of boyfriend jeans is darned with variegated wool sock yarn and framed with three rows of backstitches

I find that darning on wovens is even easier than darning on knits, and it goes quickly too. The key is to space your rows of stitching very close together. The closer together your rows of darning, the stronger your mend will be.
The project below is an old button-up flannel shirt of my husband's, where there's a growing hole on the sleeve.



Here's how I darned the hole.
1. Back the mendable area with wash-away stabilizer (I like Sulky's Solvy sticky-back, water-soluble stabilizer) to hold the fibers in place for darning.



2. Thread your needle with a long strand of your chosen yarn or thread. As with knits, I like to
use a strand that is extra-long to ensure I'll get from the beginning to the end of my darning without needing a second strand. (In this example I'm using a size 5 pearl cotton thread.)
Instead of knotting your thread or yarn, leave a long tail to weave in when your darning is complete to avoid bumpy knots on the inside of your clothing.
3. Anchor a few stitches on one side of the hole on the "healthy" part of the fabric. It's important to anchor your stitches to the healthy part of the item so your darning stitches have a sturdy foundation for long-term support. These stitches can be decorative or simply practical—up to you.
4. Insert your needle from the wrong side of your work and pull your thread or yarn through to the right side. Carry your needle to the top of the hole and insert it just beyond the hole, making sure you catch the healthy part of the fabric. Pull the thread or yarn through to make the long stitch taut but not so tight or loose that it distorts the original shape of the hole.
5. Turn your work and sew in the opposite direction the same way, very close to your first row of stitches. Keep turning your work and continue to sew closely spaced rows of running stitches and long stitches that carry over the hole. When you've covered the hole with long stitches and reached the other side of the hole, anchor your stitches to the healthy part of the item.



6. Turn your work 90 degrees. Begin to weave your thread or yarn over and then under the first long strand. Turn your work. On the next row, again, keeping stitches closely spaced, weave your thread or yarn under and then over the next long strand. Keep alternating weaving patterns from row to row until you've reached the other end of the hole. Anchor your darning to the healthy part of the item to finish.



If you like, you can frame the darn with backstitches or other embroidery stitches. Below is something I tried but I decided that the results were underwhelming, so I took out the backstitches. Just an example of other things you can do.



7. Weave in the beginnings and ends of your thread tails on the wrong side of your work. Swish your project in water to dissolve the stabilizer and you're done!



Here's another example of darning woven fabrics—a mend to another one of my husband's shirts:



I used ¼" strips of cotton quilting fabric to darn a hole in the elbow

Visible Mending is half how-to book, half inspiration guide. My goal is to provide a technique book for people who have never sewn before and an inspiration book for people who have been sewing all their lives. In the book, I've created an experiment just for you. When clothing or other textiles become worn and torn, think of it as an opportunity for creativity. Follow along in the book and you'll soon be giving a new life to items you might otherwise throw away, all while letting your creativity take center stage.
Embrace the imperfect. Make do and mend. Repair it and wear it. I hope you'll join me on this fun sewing adventure!
Follow Jenny at ReMade Nation and on Instagram.


---
Comment to win one of three copies of Visible Mending. Comment your answer to the following question before July 31st 11:59 PM EST. Winners will be contacted August 1st – and this giveaway is open to everyone!
Which of your sewing skills might you use with Visible Mending?
• I know all about patches and embroidery.
• I can sew a running stitch like nobody's business.
• All of the above: boro, patches, embroidery, darning, machine work—I'm ready to mend!