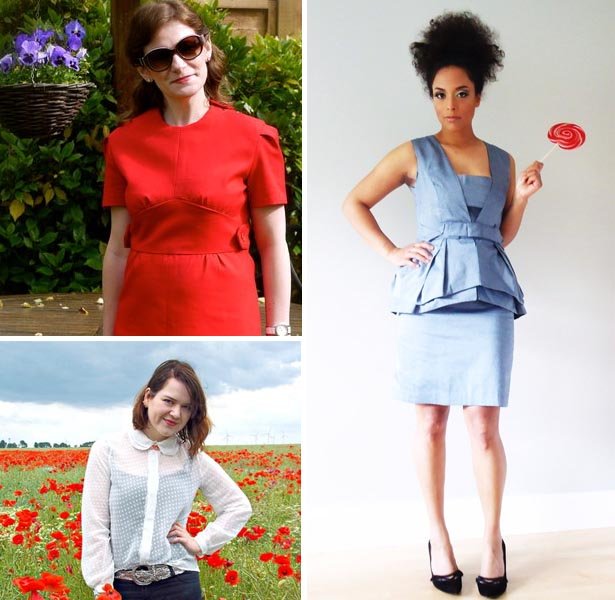 ShareThis
Every day, our talented members post new projects on the site leaving us nothing short of inspired. We compiled a few eye-catching member projects below, just in case you missed them.

Giftwrapped – The Dice Kayek Peplum Dress by marie-michelle

Marie-michelle of Calgary made this beautiful Dice Kayek Peplum dress from burda style magazine 07/2012. For materials, she chose Italian silk chambray lined with slate blue silk habutai, silk organza underlining, and silk organza canvas interfacing.




Watermelon Agua Fresca by lauramae

Lauramae of Novato, California has a unique style that embraces vintage design and classic elegance, not only evident in her garments but also through the presentation of her projects. This particular project was created during her "quest for the perfect top." She combined two different patterns, making substantial changes along the way in order to achieve the right fit and style. Lauramae just may have made the perfect top.




Peacock Blue 50's Wedding Dress by MollyQuest

MollyQuest of London made this breathtaking wedding dress to custom fit the body and style of her client in an unconventional and unforgettable peacock blue silk.




The Family Project Blouse by redredhoodie

Redredhoodie of Berlin kicked off her summer sewing series: The Family Project with this sweet blouse with its Peter Pan collar and dotted fabric. Each project in the series has been and will be inspired by an old family photo. This particular project was inspired by a dress her aunt wore in a photo from the 1970's. What a fun idea!




V is for Valentino Red Dress by Irina Schwab

Irina of Aylesbury, United Kingdom finally finished her long awaited Valentino dress and managed to execute the garment with a perfect fit. Her goal was to achieve a truly classic dress and that is exactly what she did.

Check out the Best of June 2012 Gallery for more inspiring June projects.