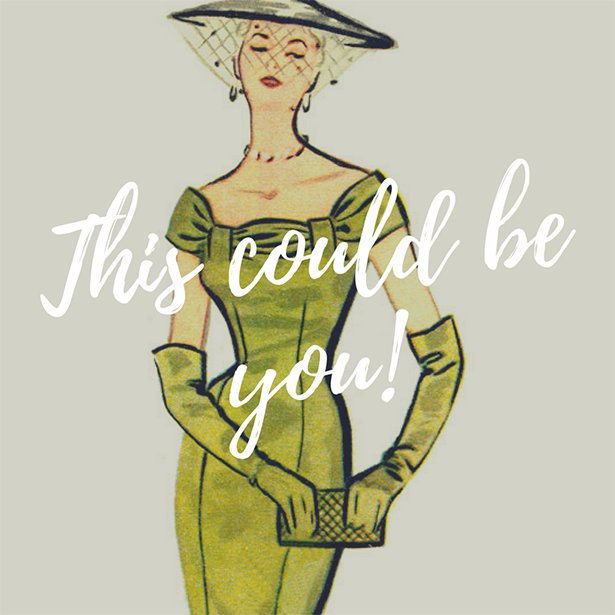 ShareThis
National Sewing Month starts tomorrow and to kick it off a little early we are starting a new Member Model Challenge for the month of September! It has been over a year since our last challenge and are very excited to launch it back up. This time around we are looking for a member to create our Fifties Dress pattern, so if you want your dress variation to be the face of this fabulous retro pattern then read on to learn more… Deadline for submissions extended to Sunday Oct 1st
I absolutely LOVE Member Model Challenges, and have had such success with them in the past (scroll to see some of our past winners). So when we were talking about National Sewing Month, I just had to bring up reviving the Member Model Challenge and I think this is my favorite challenge pattern yet…

THE PATTERN



We have just uploaded this digital exclusive to the pattern store, it's our Fifties Dress!


This classic, elegant, and feminine look was an original dress by burda from the year 1954. The cut is exclusively available here as a digital download (you can't find this style in the current magazines). The slim cocktail dress emphasizes the waist, and a refined look is created by the elaborately draped bodice. In the fifties, the dream dress was made of silk or crepe fabrics. Today, woven fabrics with crosswise stretch such as chintz, satin, cotton sateen create a perfect fit, and highest comfort level for such a classy style.

For the contest YOU get to determine the fabric and color/prints you want to use… it is like you are the designer and inspire others to recreate the pattern!



CONTEST OUTLINE


+ This contest is open to ALL our members!
+ Member will sew the dress with no major outer construction changes (removing / add seamlines etc.)
+ Member will photograph the dress project and upload to our projects page with Member Model Challenge somewhere in the title and linking to the Fifties Dress pattern (so we can find it)!
+ ALL the submissions will be gathered together and voted on by YOU to determine the winner.
+ The winner will get bragging rights and their photography as the MAIN pattern image as well as their choice of TWO digital kits!
In order to be considered for the contest you will need to upload your project by Sunday, October 1st 11:59 PM EST. On Monday, October 2nd the BurdaStyle.com team will put together all projects and they will be up for YOU to vote on. Voting will close Sunday, October 8th at 11:59 PM EST and the winner will be announced Monday, October 9th with their dress photography as the main image for the pattern.
We will be looking for dresses that have good photography/styling, quality construction, and best choice of fabric. Don't be afraid to add embellishments too!

Here's a look at some of our past winners…



top left: Cascade Dress; top right: One Shoulder Flounce Dress; middle: Asymmetric Dress; bottom left: Gathered Tube Dress; bottom right: Pleated Dress
Happy Sewing!
Good luck, and start your sewing machines….