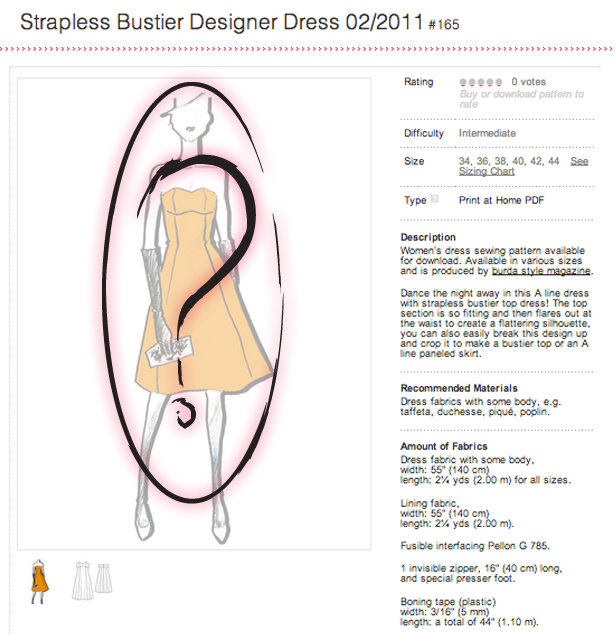 ShareThis
DEAD LINE EXTENDED: Enter by September 29th!
Our past two Member Model Challenges haven been such a great success and we love to see all the creativity in our talented seamstress members! The next designer pattern that we want to see your fabulous variations of is our newly debuted Strapless Bustier Dress. So come on and join our next competition to see who will be the face of a BurdaStyle.com pattern!
So what we need from our talented member sewers is to make this dress pattern, photograph it, and upload to BurdaStyle.com. Then if YOUR dress project is chosen, YOU get to be the face of this BurdaStyle.com exclusive pattern! Your dress will appear as the main image for the pattern in our pattern store and we will link to your member profile in the pattern description. Inspire other members to make this pattern as well!
We are debuting this new Strapless Bustier Dress, that you can dance the night away in! The top section is a fitted bustier style and then flares out at the waist to create the most beautiful silhouette. For the contest YOU get to determine the fabric and color/prints you want to use… it is like you are the designer.
Contest Outlines
- This contest is open to ALL our members!
- Contestant will be required to purchase the pattern from our pattern store link here
- Member will sew the dress with no major outer construction changes (removing / add seamlines etc.)
- Member will photograph the dress project and upload to our projects page with Member Model Challenge somewhere in the title and linking to the Strapless Bustier Designer Dress pattern
- The top THREE dress projects chosen by the BurdaStyle.com team will be put in a contest gallery to be voted on BY YOU!
DEAD LINE EXTENDED:
In order to be considered for the contest you will need to upload your project by Monday Sept 29th 11:59 PM EST. On Tuesday Sept 30th the BurdaStyle.com team will determine the top three dress projects and they will be up for YOU to vote on. Voting will close Monday Oct 2nd at 11:59 PM EST and the winner will be announced Tuesday Oct 3rd and their dress photography will be uploaded as the main image for the pattern.
We will be looking for dresses that have good photography / styling, quality construction, and best choice of fabric. Don't be afraid to panel fabrics and prints and add embellishments too!
Here is some inspiration to get you started, use any fabric or print you want and you could even panel them together. The dress style allows for a lot of fabric paneling! We love this warm color palette that will allow this dress a nice transition into fall.
Check out our last two Member Model Challenge winners with their projects as the main pattern image here:
could YOUR project be next? Be the next winner, and start up your sewing machines! Excited to see all the entries.
Happy Sewing!