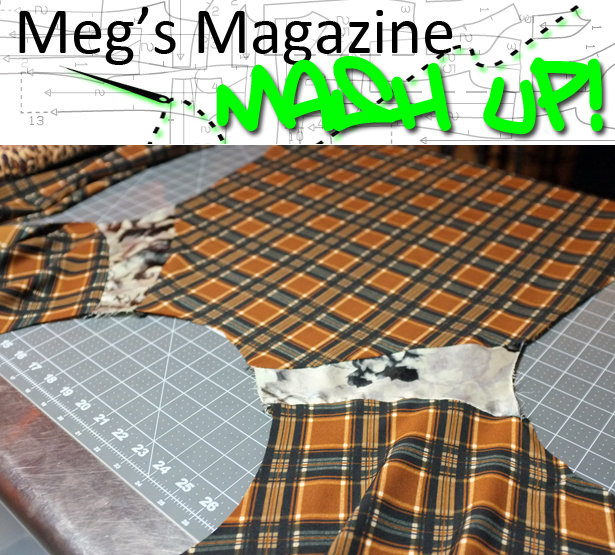 ShareThis
Last post I blogged about cutting and all the pre-assembly of my High Collar Dress Mash Up! This dress is turning out so great (and taking me a long time… sorry guys!) Read on to see my first steps in sewing this dress…
I finally got around to sewing my dress, I have been traveling and prepping for the holidays and it seems that I just don't have as much time to sew! How do you guys make time? When do you sew? Things are calming down now and it was so nice to sit down and really tackle a good portion of this dress.
I started to pin the panel seams with the slit last post, so I sewed those seams together first. When I got around to the start of the slit I pivoted at the corner and stitched to the edge. I pressed the seam allowance to the floral side and the slit allowance was pressed to that edge as well. The plaid under layer remained flat. To finish the allowance on the inside of the slit, I clipped into the corner of the slit and spread the allowances then serger the slit edges as well as the curved panel seam allowances together.
I sewed both panel seams and slits together and now it was time to attach my floral top yokes/panels to my dress! I placed the pattern pieces right to where they were going to be sewn (this dress pattern is kind of confusing, so I suggest keeping your pattern pieces pinned to the fabric until you are ready to sew with that piece). I sewed the pieces to the dress, right sides together and serged the seam allowances together and pressed towards the plaid fabric side.
The front was assembled and now it was time to tackle the back. I sewed the lower back piece to the top back piece, serged the allowances together, and pressed downwards.
Now this was the most confusing part of assembling the dress together. I first sewed the top yoke/panel floral pieces to the back curve which I guess was the shoulder seam that attached the back to the front. After that was done it was time to sew the side seams together, and the easiest way to do this was to match the hems together and pin along the curve until you get to the sleeve hem.
Next is to stitch the side seams together, install the zippers, finish the neckline, and sew the hems! I will make time this week again to sew.
Happy Sewing BurdaStylers! Look at your projects really inspires me the most to sew.
Meg