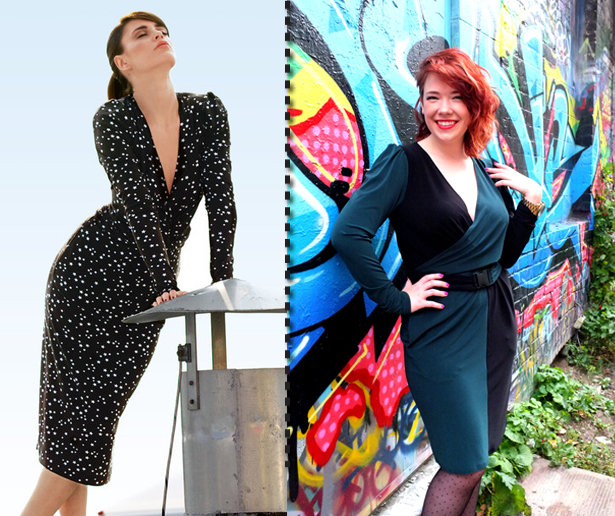 ShareThis
The September issue! September is my favorite month, not only is it my birthday month but I love the fashion as well. Fashion weeks are up and running and all the magazines (including burda style magazine) debut their covers and fashion editorial spreads. This this month I chose to 'mash up' our Knotted Dress pattern from my favorite September collection Star Power, and I sure got the power while sewing this dress. Check it out!
For this mash up I was inspired by our recent Military Style pattern collection. I loved the utilitarian look, and the green and black color blocking. So for this pattern I purchased both black and green barcelona jersey fabric to sew together to make the dress. The fabric is super stretchy and soft, so I knew that it would be a great choice for this style. Instead of tying up the dress with the 'knot' in the front, I decided I wanted to make it a wrap around style and use a chunky buckle as a fastener.
What I did first was trace off the pocket piece on the front skirt (I ended up altering this later while I was sewing). Then I shortened the hemline on the skirt pieces by 5 1/2" since this was not a petite pattern and I am only 5' 2". Then I needed to adjust the front bodice wrap around piece so the ends could fit in my buckle. I measured the opening and added a few inches so the fabric would gather in a little bit. I took this measurement and applied it to the front bodice where marking number 7 was and carried it through to the end edge. Then I blended my waistline and neckline seam. The instructions state to cut the front and back skirt on fold, but since I was color blocking two fabrics, I added seam allowance to the center front and center back edges on the skirt.
Cutting this pattern was a little tricky because I wanted to 'checker board style' color block my dress. So I needed to cut out each piece individually.
First I sewed my 'wrap' pieces together on the front bodice pieces. I folded my extensions widthwise, right sides together, and serged from marking number 7 to the end edge (and then I flipped them right side out). Then I sewed my two front skirt pieces together along center front. When I cut out my pattern I made two small clippings in my fabric where marking number 4 was on my bodice and skirt.
I pinned my corresponding bodices to the skirt along the waistline and sewed them together starting from the side seam edge, and stopping at my number 4 markings (about 1 1/2" away from center front).
I didn't like how the pocket pouch pieces went right up to the waistline so I trimmed my pattern and pieces (see image). then I matched my notches on my front skirt pieces (on the side seam) with my corresponding notches on my pocket pieces. I sewed the pocket pieces to my skirt, right sides together in between my notches. I used my stretch stitch setting on my sewing machine to sew this seam (serging would create too much bulk).
Next I assembled the back of my dress. Serged the skirt pieces together, serged the bodice pieces together, and then serged the two together along the waistline! I then laid the front dress, right sides together with the back and serged the shoulder seams together. But before I did that, I sewed the pocket pieces on the back skirt just like I did on the front.
Now it was time for the sleeve. When I am sewing a gathered sleeve I always like to gather it and sew it in before I sew the side seams, I always result in a more evenly gathered sleeve. I sewed a basting stitch on the sleeve crowns in between the markings on the sleeve pattern pieces. Then I simply gathered to match the armhole edges.
Once the sleeve were both sewn in place, it was time to sew the side seam. Since I attached my sleeves first I had to sew the side seam starting at the sleeve hem and stitching all the way down (and around my pocket) to the dress hem line. Then I flipped my dress right side out, I was almost done!
Now it was time for the finishing touches. On the front bodice I finished the edges of my open waistline and neckline with my coverstitch machine, you could easily just turn the allowance to the wrong side and stitch in place with your sewing machine (using a twin needle, or a stretch stitch). I worked from the right side of the fabric, first stitching from mark number 7 on the right bodice stitching along the open waistline and back up to the left bodice mark number 7. Then I finished all around the top edges of my wrap extensions also working around the back neck.
Next I slipped on my dress and crossed my front wrap extensions twice at the front and once around the back. I pinned my buckle pieces in place so I had a nice snug fit at the waist. To stitch my buckles in place I switched to my zipper foot so I could get nice and close to the buckle edge. Then from the wrong side I trimmed the excess extension to reduce bulk. Also while I had my dress on I checked my sleeve and dress hem length, and once I established they were in a good place I stitched them down in place with my coverstitch machine. If you sew / work with a lot of knits, I highly recommend investing in a coverstitch machine, I love mine!
Now I have a beautiful wrap dress that Is fall and winter friendly! I can totally see myself wearing this around holiday time, especially since this dress fabric is so forgiving. Check out more detail and photos of my dress here. Dress fashion photography by Julian Michael Majewski.
Try making this dress yourself with your own unique spin! Maybe make it into a top, or omit the sleeves.
Happy Sewing,
Meg
Meg Healy is BurdaStyle.com's Online Editor and eCommerce Manager. She has an education in fashion design and earned several awards for her technical skills in pattern making and sewing.