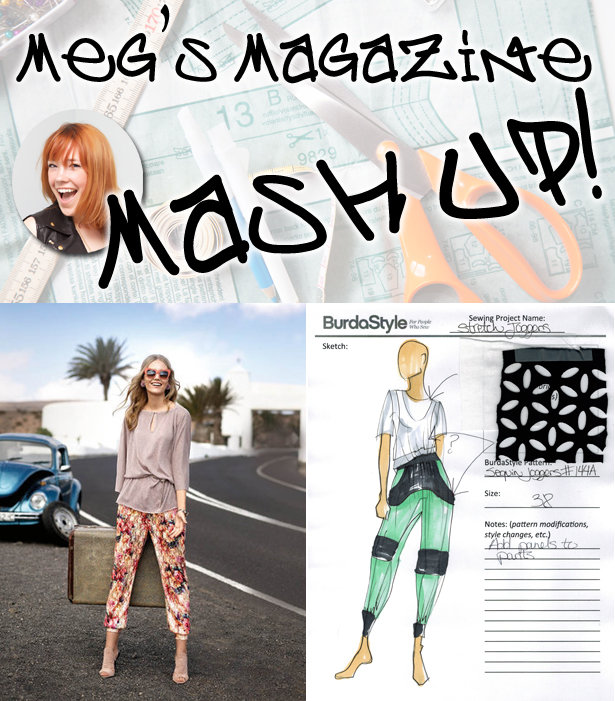 ShareThis
Happy weekend BurdaStylers! Thank you to all who voted on my last post to help me choose what pants pattern I should Mash Up next! I truly had no idea which one of the four I wanted to make, so your input is very helpful to me and I also want to know what you want to see made. In this post I announce the winning pattern alongside my cutting out steps to the top I am also making to complete my Mash Up outfit. Check it out below… I also announce a fun and trendy new DIY post I am working on.
So yes… It was a tie! I ended up going with our Sequin Joggers pattern since they look so comfy and I already have so many form fitting pants in my wardrobe.
To put my own spin on our Sequin Joggers pattern I want to add in some panels and also sew it in a bright sweat-pant fabric (like mint green or pink). Although I love the idea of sequin pants… The idea of sweat-pants seems more comfy to me right now (it being right after the holidays and all haha). So I still need to gather all the fabric to make these pants.
For the top, as I said in last week's post, I'm also sewing our Mesh Shirt pattern to go with my pants. I am going to make this two layer top in a lightweight white jersey I have already in my studio. I also want to bind all the edges of the T-shirt and tank with black strips to add some extra contrast, and tie in the panels of the pants.
Since I already had my top jersey fabric I got started right away tiling the pattern.
I added seam allowances to the sewn edges of the top and left the neckline and armhole edges without any since I will be binding those edges.
I cut out all 5 of my pieces in the white jersey, making sure that they were all cut on the same grain and that the direction of greatest stretch of the fabric was going across the body of the pattern.
To make the binding strips I cut a bunch of 1 1/4" wide cuts out of some scrap black neoprene fabric I had lying around (I just love when I can use fabric that I already have).
That was it for now, it has been a long week! This week I will sew this top to completion and get the fabric for my joggers. I can't wait to go fabric shopping.
Also, look what I just made… A dickie! I can't believe these are coming back in style, but I'm kind of loving it. So stay tuned for the free dickie sewing pattern download and my DIY post.
Happy Sewing!
Meg