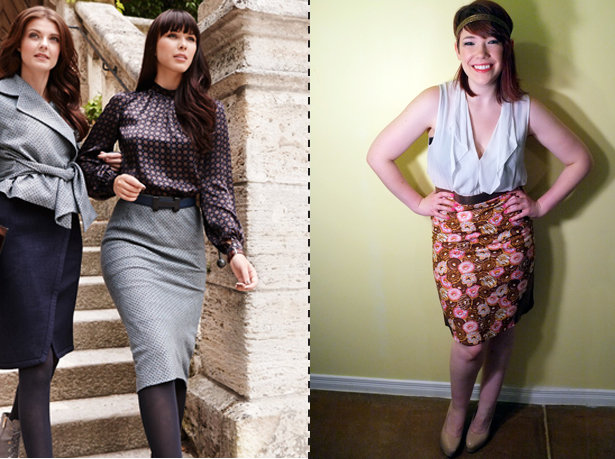 ShareThis
Well that was fast, November that is! Which means another Mash Up is in the mix. I realized I have only done one other skirt mash up and I wanted to do another one before the year was up. So this month I decided to mash up the edgy paneled straight skirt from the November 2013 issue. Check out how yummy I made it look!
I loved the paneling in this Straight Skirt from our Ivy League collection this month. The panels wrap around to the front and really hug the figure. I had three fabrics that I wanted to work into the skirt so I decided to draft another panel from the skirt radiating from the existing one. You can see on the sketch above where I added the additional style line.
Now I better address that fabric! Yes I am using doughnut printed fabric in a fashion garment, but I say why not? It's fun, colorful and unique which is just like me (haha). And yes, I did find it in the quilting section of the fabric store, which is where I actually find many cool printed cottons. Funny story about this fabric… I took my boyfriend fabric shopping with me (sounds like a bad idea doesn't it?) but he noticed this doughnut fabric and desperately wanted a shirt out of it (see below). I made him this men's pattern first, and then wanted something for me out of the left over fabric. I wasn't about to make a garment purely out of that fabric so I also purchased a plain maroon crepe and pink metallic lamé to panel-sew it with.
I cut the larger back panel in the maroon crepe, and the waistband (draft yourself) and smaller side panel in the metallic lamé. My entire one-piece front panel showcased the lovely doughnut fabric. For my additional panel I measured approx. 15" along the style line from waistline and blended a curve on my paper pattern. Then I placed a piece of tracing paper overtop of my pattern, established my grainline and traced the outer edge of the piece and added seam allowance.
The first couple steps were simple. I interfaced my waistband and sewed/pressed my center front darts.
For the panels, I first sewed the smaller lamé panel to the center front piece using lots of pins! Sewing curves like this requires pins every 1" or so for the best result. I serged the seam allowances together, and then sewed the back maroon panel to the front and side metallic insert (all in one seam).
Then I proceeded to serge those allowance together as well as my center back seam. I pressed all panel seam allowances towards the back of the skirt.
Ok so plan A was to sew in an invisible (which I did) and then attach the waist band (which I did). I was not feeling it, and I messed it up a little bit (happens). So I went through my zipper bin and found a black plastic zipper that I wanted to use instead. So I simply just cut off my zipper and center back seam, my new exposed zipper will account for the width that I cut off.
Next I sewed on the waist band starting and ending at center back, and from the top of the waist band I started to pin my zipper face down on each side.
After I pinned my zipper in the center back of my skirt I made a marking on my fabric (at center back) 1/2" from the bottom of my zipper. I cut around the bottom of my skirt at this measurement. I serged the hem of my skirt and sewed a little double turned hem. Then I proceeded to stitch each side of the zipper in place.
After I sewed my zipper in place I hand tacked the hem and waist allowances in place, and then it was ready to wear! I hung my new skirt on my mannequin to show off the lovely panels. This skirt is so fun, and great for parties and fun outing with friends. I know this holiday season it will be making some appearances. You can view more images of this skirt on my figure here.
Here is a picture of both the doughnut shirt and skirt I made. This skirt actually fits so well, and the wrap around panels really hug my figure. Just a little note though, I am about 5' 3" and this pattern is regular sized so I had to take almost 10" off the hemline. Overall I love this skirt, and I would make it again in a more demure fabric such as grey wool like in the pattern photography.
Would you use a novelty-printed fabric for a fashion garment?
Happy Sewing!
Meg
Meg Healy is BurdaStyle.com's Online Editor and eCommerce Manager. She has an education in fashion design and earned several awards for her technical skills in pattern making and sewing.