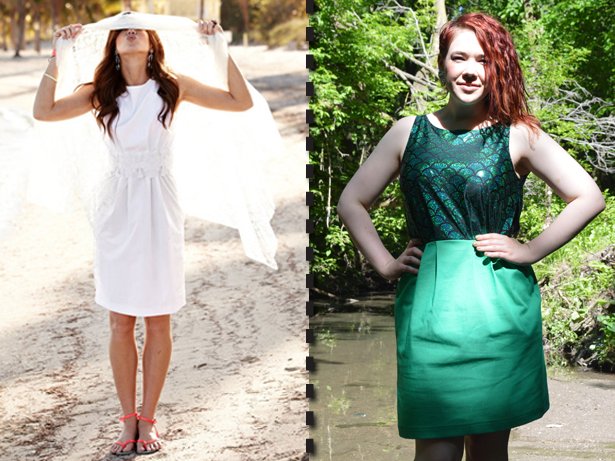 ShareThis
Hello! Yes it is time for my May burda style magazine mash-up already, and I am really excited about my new garment! Over the last month I have gotten so much wear out of my spandex bustier that I made last month. The May 2013 had some goodies but I was in mood for making and wearing a dress this month, so that is why I picked a dress pattern from the Bright Whites pattern collection. I also wanted to see what a dress from this collection would look not in boring white! To make it for myself, I needed to mash it up with spandex and bright green…obviously.
I ended up choosing the Lace Waist Dress pattern to mash up. I liked all the deep pleats and the slight boat neckline. Also, the waist seam made it easy to fuse two different fabrics together, which I love!
Now for the fabric I choose…I had this green lightweight stretch denim I purchased from Mood Fabrics and I knew I wanted it incorporated. Then I realized the spandex leggings that I made (and was wearing) matched perfectly! And I had just enough to cut the bodice in this totally awesome scale print spandex.
I really didn't make any style pattern adjustments to this dress, just one fit adjustment at the front neckline. BurdaStyle patterns always seem to gape at the neckline because I am narrow at the shoulders, so I made a marking in my neckline and dress a line from this mark to center front waist point. I then slashed this line starting at the neckline and overlapped 1" to reduce the neckline size. Then I blended and drew in a new neckline. This method is great for reducing bulk for narrow shouldered women who do not want to also adjust the side seam width. I demonstrated this in my Pattern Grading Webinar just last week!
I then proceded to cut my skirt in the green denim, and my bodice in the mermaid spandex print. I also like to make very small clips at the pleat ends, I always find this easiest when sewing pleats down if the markings rub off or the pins shift while I am sewing.
I used a carbon paper and a tracing wheel to mark my pleats, and then pinned them in place according to the directional arrows indicated on the pattern. Easy as pie! To stitch my pleats in place I used a zig zap stitch on my sewing machine because the denim had quite a bit of widthwise stretch to it. Also I find this stitch to be a bit more secure because it is wider than just a normal straight stitch.
Firstly, I sewed my right side seam together and serged the allowances together. Because the zipper was going in the left side seam, I finished and serged these edges first. After serging the left side seam skirt edges, I had to remark my zipper placement notch because I accidentally cut it off while serging (oops!).
The pattern instructions called for the zipper to start at the under arm, but I decided to start it at the skirt waistline and have the side bodice slit with a snap at the top. So I just needed to sew my invisible zipper into the skirt. I was super proud of this zipper, I am really bad at invisible zippers (even though they are easy). If you are to look at my studio and my previous mash ups, you can see I use a lot of exposed zippers. I always get a bump/bulge of fabric at the end of an invisible zipper, but a good pressing over a ham smoothed it out nicely.
Now it was time to fold, pin, and stitch my pleats in the bodice (also using a zig zag stitch because it is spandex). Then I sewed the right side seam together with my serger. Because I wanted a slit above the zipper, I finished the edges of the left side seam. Since it was spandex I used my coverstitch machine to fold back and finish in place. If you just have a regular sewing machine a zig zag stitch would work just as nice.
It was time to merge these two together! I matched up the finished edges of the bodice with the zipper opening on the skirt and also made sure the pleats all aligned (which they did, whew!). Sewing these two different fabrics together was difficult, in order to make it easier for myself I used a lot of pins and sewed realllllllly slow rechecking that my ends and side seams would always match up. After sewing together I serged the allowances together and pressed downwards.
To finish off the bodice I serged the shoulder seams together and finished the edges again with my coverstitch machine. To secure the edges at the zipper side I hand stitched the seam allowance down towards the hemline on the zipper tape edges. For the top of the slit, I hand sewed a single snap making sure the front bodice overlapped the back at the top of the side seam so it was unnoticeable from the front.
Last but certainly not least was the hem! I usually just serge my hemline and turn it up once, but I wanted this dress to have a more finished hemline. I pressed up the raw edge 1/4" and then pressed and pined the folded edge another 1". I then stitched the hem in place from the wrong side of the dress, and boom done!
This dress is fabulous and was so quick to sew. It literally took me one evening from very start to finish since there was no lining and facings, etc. I have a wedding coming up this summer and I think this dress would be the perfect thing to wear. I do advise wearing a belt with this dress as the pleats can create a bulkly look around your waist.
I was strolling through a park and noticed these frames pasted on the columns of the bridge we were walking under. What a perfect opportunity to document my new lovely dress! I have styled my dress here for daytime, as you can see I am just wearing flats and no jewelry. For night time I may even wear my matching leggings, and I'll definitely need a sky-high pair of heels. I like to call this my mermaid dress, and it especially makes sense because of my red hair. Take a look at even more fabulous pictures of this dress here
I am already getting excited for my June Mash Up because I know what collection I am making it from, I am just not final on which pattern. The Surfing patterns are my FAV, which one do you think I should mash up next month?
Photography by Julian Michael Majewski
Meg Healy is BurdaStyle.com's Online Editor and eCommerce Manager. She has an education in fashion design and earned several awards for her technical skills in pattern making and sewing.