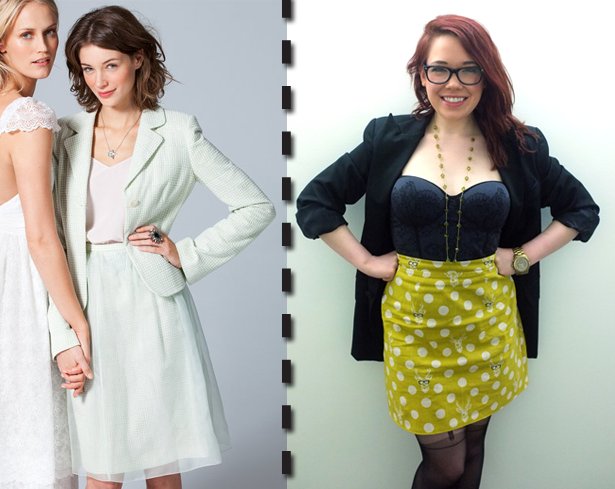 ShareThis
Springtime is within reach, and another cool month goes by here in NYC. For this month's mash up I wanted a quick and easy sewing project that I could wear now and get use out of in the summer. The March 2013 issue of burda style magazine was filled with bright fabrics and lovely designs. Check out what pattern I chose to sew up this month!
I decided to make this Layered Skirt from the 2013 Wedding Belles collection. It was a toss up between the skirt and the gorgeous Open Back Dress, but I wanted a quick-sew project and a finished garment that I could mix and match into my wardrobe. So the skirt seemed to be the most practical, plus I loved the angled darts at the waistline.
I decided to make the skirt and I knew I had to use an interesting fabric since the skirt design was so simple. Last December I picked up this awesome Hipster Deer printed linen at Harts Fabric in Santa Cruz. As soon as I saw it, I knew I had to have it. The fabric was green, it had animals, and they were wearing hipster glasses just like mine…it was perfect! The tone of the fabric looked great with this gold and black metal zipper I had, so I ended up sewing a full center back exposed zipper on the skirt.
My original plan was to actually add a shorter over skirt, like the one added in the pattern. In the pattern you draft a rectangle to become the over sheer skirt, but I wanted a peplum effect so I drafted a circle skirt that I cut in black mesh left over from my Little Black Dress. I loved how the two fabrics had polka dots, but after I cut it out and placed it on the skirt waistline it didn't look quite right. It's ok, I'm sure I'll use it on another skirt. I can't bring myself to waste any fabric! When I drafted the peplum I followed our How To Draft A Peplum tutorial.
First I sewed the front and back darts, then serged the raw edges of my side seams and sewed them right sides together.
I then interfaced my waistband, folded it in half lengthwise and sewed it to the skirt. To neaten my waistline I serged all the allowances together and pressed in place so they lay downwards. Since I was inserting an exposed zipper I finished the hem of the skirt and serged the center back seams.
It was only an hour or so from when I started cutting out the skirt and I was ready to sew in the zipper! I love sewing skirts.
I pressed the center back seam allowances to the inside, and worked from the wrong side to pin the folded edges against the zipper teeth. Using the zipper foot I sewed along each zipper tape edge. I went back over the top and bottom edges of the zipper with a couple extra back stitches for security. The only final finishes were to tuck back the excess zipper tapes and hand sew in place.
There we have it! A new skirt sewn in an afternoon. It fits so well, and I can wear it now with tights and a blazer and also in the summer with wedges and a tank. And of course I have to wear my matching glasses with it.
I loved the fit and style of this simple skirt so much I decided to cut it in this cool blue game fabric. Can't wait to start sewing this one, and many others to come.
Meg Healy is BurdaStyle.com's Online Editor and eCommerce Manager. She has an education in fashion design and earned several awards for her technical skills in pattern making and sewing.