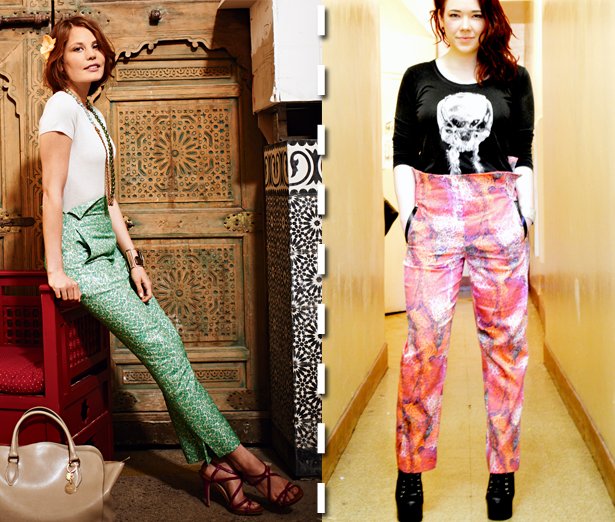 ShareThis
Well here we are again, another month in 2013 has gone by and for me it results in an awesome new pair of pants! As mentioned in my January Mash Up, I am sewing a pattern each month from the latest issue of burda style magazine. Check out what I got up to this month!
The February patterns were all so great, and it took me a while to decide on which pattern I wanted to make. I kept going back and forth between the Sleeveless Jumpsuit and the High Waist Trousers from the Boho Jet Set collection. I finally decided on the trousers because I loved the high waistline with side slits! It was a change for me to make a pair of pants not made out of spandex…but I was ready for the challenge!
I just love digging through BurdaStyle's extensive fabric closet. I managed to find this awesome printed cotton silk from Spoonflower. The colors were so vibrant, and I loved the design. The print reminds me of veins in a body, and I liked the fact that the print has a digital image quality to it. The pattern has two single welt pockets, so to make them stand out I cut the welt strips in black leather to add contrast…and edge of course! And after I finished sewing them, I just had to add studs.
I firstly attacked the welt pockets. I hadn't sewn a welt pocket in while so I was a little nervous. But actually welt pockets are quite easy to sew! And I love the welt strip in a contrast fabric.
After interfacing the welt area I drew the marked lines and cut them with a cutting mat and rotary cutter. I like to use a rotary cutter instead of scissors, It makes a more precise cut. Once I cut the lines, I pressed all the edges to the inside.
Firstly I sewed the back pocket pouch to the welt edge closest to the side seam. I made my stitch right in the fold I created by pressing.
Then I folded the welt strip (leather) in half lengthwise and stitched it to the other welt edge closest to center front. After that was in place, I took the other pocket piece (lining) and stitched it next to the welt strip.
Lastly, I serged together the outer edges of the pocket pouches together and stitched each short end of the welt to the pocket pouches so that the pocket wasn't open on each side.
After each welt pocket was sewn, it was just easy sewing from there! I sewed the side side seams (to top slit marks), center front seam, center back seam, and inseam. Then I inserted the side seam invisible zipper.
Next thing to sew was the top waist facings. These facings are really wide because the top of the pants are supposed to fold over. I layed my front and back facings on the top edges and stitched across and down the side slit edges. I clipped the corners and gave all the edges a nice press. I decided not to understich the facing because I didn't want to see a stitching line when the top edge folded over at the top.
The original pattern at side slits at the hem, but I decided not to sew them because I thought the top side slits were enough. So I serged the hem edge, pressed up two inches and hand stitched in place.
Here they are! Fabulous aren't they? I never thought I could like a pair of non-spandex pants so much. They are a relaxed fit, so they are super comfy to wear.
I styled them here with my favorite pair of Jefferey Campbell spiked heels, and tucked in a tight long sleeve top. I will probably only wear these pants with heels because they have a cropped hemline, but I could also see myself wearing an awesome belt with them too!
Photography by Julian Michael Majewski
Meg Healy is BurdaStyle.com's Online Editor and eCommerce Manager. She has an education in fashion design and earned several awards for her technical skills in pattern making and sewing.