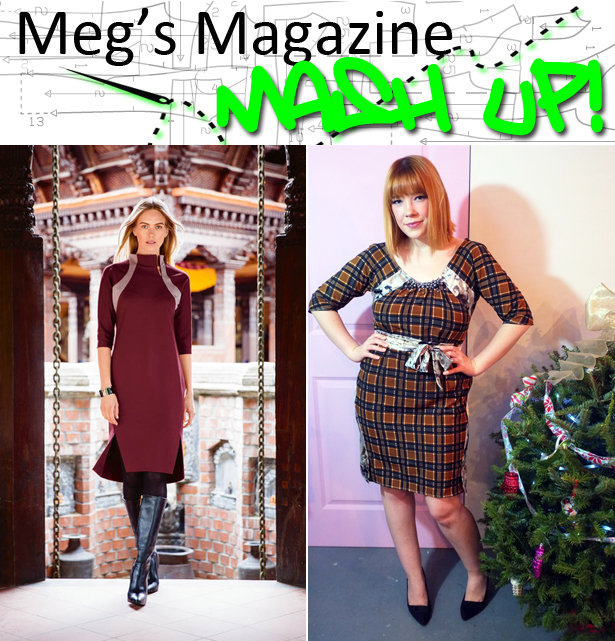 ShareThis
It's done! My plaid and floral dress is finally complete, and the end result is fabulous in my eyes. This Mash Up has taken a lot longer than I originally planned and wanted, but it was totally worth it in the end. Again, I made this Mash Up from our High Collar Dress pattern, I altered the neckline, hemline, and seamlines. Read on to see more!
One of the last things to do to finish my dress, was to finish off my floral matching belt! I turned in the allowances of each end and pinned in place and topstitched. I also hadn't sewn the sleeve hems yet, so I pressed up the allowance and stitched in place.
As demonstrated in my last post, I gathered the center front edges to make the neckline lay nicer on me. I loved the gathering, but I thought it was missing something… In come the beads! I dug out my jewelry making kit (from way, way, long ago) and found some silver floral beads that matched quite well. I hand stitched a cluster of them around and over the gathers.
Now my dress is fully complete, and ready to wear to my holiday parties (already wore it this past weekend).
I'm not the only one who made this dress pattern recently. Check out these GORGEOUS member variations of the same pattern!

left; Member Beccki's Dress, right; Member Elpida Kyriakou's Dress
I just love seeing the same sewing pattern made up different ways.
Now here is my finished dress, photographed by my lovely little tree for the holidays. The plaid and florals really work together well, and the dress is simply not complete without that belt! See more finished pictures here.
Happy Sewing! Also stay tuned for my next Mash Up pattern reveal where I am going to make my New Year's Eve Dress (I already have the fabric)!
Meg