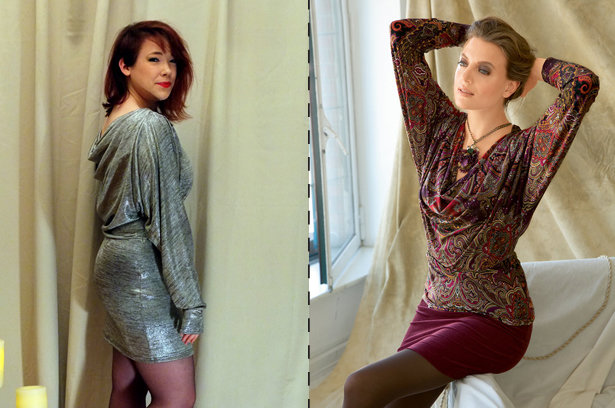 ShareThis
I did it! 12 monthly mash ups of 2013. Whew, it seems (seams) like just yesterday when I sought out on my mission to make one pattern from each monthly issue of burda style magazine and I couldn't be more happy with the garments I have made throughout the year. I wanted to end 2013 with a bang so I put my spin on an elegant gown using this pattern from the December issue. Check out the result and how I turned it around!
Some months for my mash up I pick the fabric first, and others I pick the pattern. This was a case where I knew I wanted to make our Jersey Cowl Top and I headed to the fabric store on the hunt for the perfect fabric. I knew it needed to be two things, number 1. stretch and number 2. shimmery. I had no particular color in mind so when I saw this glimmering silver knit fabric, I knew first thing it was perfect! When I got home I pondered over the fabric for a little bit and held it up against me and I thought it would look nice with a little panel on another fabric. Judging from my other mash ups I always love to add a touch of leather or mesh, and I guess this month was no different. I decided to do a mini illusion neckline and sew a black mesh panel on the top front (which is actually the back of the pattern).
Early on I knew I wanted to reverse the cowl and have it in the back. There is something about a back cowl on a dress that is so elegant and classic. It was an easy flip and did not effect the fit what so ever.
I did two minor drafting adjustments. First I lengthened the hemline on the bottom piece 24. Note: This pattern PDF is also for our Draped Jersey Top and Grecian Cowl Dress, and I wanted to make an in-between length so I drew a new hemline approx 8" down from the original AB hemline. Next I drew my placement line for my illusion neckline, which I drew 3 1/2" down from the center front neckpoint (originally center back).
To finish the front neckline mesh piece I cut a 1" strip for binding. Then I cut the rest of the pieces out of my lovely shimmery fabric (which left my hands and cutting table shimmery as well).
The first step in my sewing process was to bind the top neckline edge. I pinned my binding strip extending approx 1 1/2" past my neckline and then serged it on. While serging my binding on I stretch just my binding strip to make it gather in the neckline ever so slightly. Then I turned the excess binding over and under my serged seam and coverstitched in place (you can also zig zag it).
Next, I pinned the pleats in place on the cowl piece to the center notch.
Now I just basted them in place with my sewing machine very careful. Since these pleats overlapped each other so much they were bulky under the machine and slipped around. So I just went slow, cranked my hand wheel and kept the pins in as I sewed.
I sewed the top mesh panel to the lower half of the front and also trimmed the binding finished edges. Next was to sandwich the mesh shoulder line in between the two shoulders lines on the cowl piece. I stitched it with my single needle first, and then trimmed the bulk.
Then I serged the three layers of the shoulder together and flipped to the right side. I finished/serged the lower edge of the cowl facing and basted down to the armhole (this really helps when sewing in the sleeve).
Now it was time to sew my sleeves in! I matched my sleeve edges with the notches in the side seams on both the front and back pieces, and serged together.
Before I sewed up the side seams, I needed to attach the bottom skirt pieces and elasticize them. For the elastic I simply zig zagged the 3/8" elastic over the waist seam allowance from the wrong side. I stretched the elastic as I sewed it in for a nice tight fit in the waist. Then I proceeded to place the dress right sides together and stitch up the side seam from dress hem to sleeve hem matching up waist and underarm points.
To finish off the hems, I simply folded under and up 3/4" and coverstitched in place.
Voilà, a brand new dress fit for any special occasion. This dress is super comfy due to the fabric and silhouette, and I can't love that back cowl enough! I really like the fact that this dress is casual enough for a simple dinner date so I can wear it sooner than later. I'm glad I switched the pattern around for this particular style, but I am definitely going to make it again with the cowl in the front. I could even see myself wearing this garment with leggings for a more 'day-look'. Check out more info and photos of my finished project.
Also if you made one of the patterns I used for a Mash Up, please post your project URL below in the comments, I would LOVE to see them and will be putting up a post soon featuring some of them!
January mash up, February mash up, March mash up, April mash up, May mash up, June mash up, July mash up, August mash up, September mash up, October mash up, November mash up.
Happy Sewing!
Meg
Meg Healy is BurdaStyle.com's Online Editor and eCommerce Manager. She has an education in fashion design and earned several awards for her technical skills in pattern making and sewing.