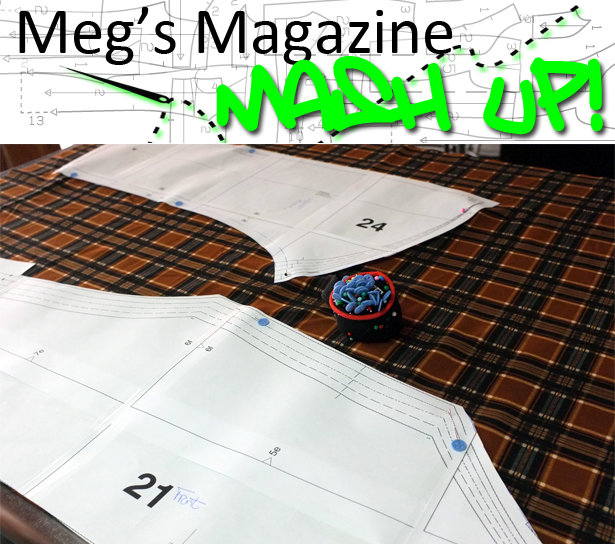 ShareThis
Last week I debuted my new fabric for this Mash Up, and this week I cut out my dress in preparation for sewing. Also my Jean Course that I wrote about last post is now live and you can register! Read on to see more…
First off, cutting plaids is not fun… But just to say this particular patter was easier to cut out of plaid since panels of florals were in between the plaid pieces, so I didn't worry too too much about the exact matching of the plaids. But I still took my time in making sure that the plaid lines were laying exactly on top of eachother on the fabric fold.
I want my dress to have a nice long belt so I cut a long strip of the floral fabric 4" wide (to be a 1 1/2" wide belt finished width).
Then I cut out my pattern pieces for the dress in the floral.
I measured around the slit opening edges along the front of the dress in order to cut interfacing strips. I measured 2" wide and 9" long.
I cut out 4 separate rectangles and fused them to each slit edges.
I started to pin the floral style line seams on the front skirt above the slit. I also pinned the other seam, and sewed them together and formed the slit… Pictures of the sewing to come in next week's first sewing post! I wish I could have sewn some to day's post, but BurdaStyle has been a busy place these last couple of weeks. Don't worry I'll have more time to sew in the next couple of weeks :)
Happy Sewing!
Meg